SAFE FRONT HYGIENE PROTECTOR
SAFE FRONT HYGIENE PROTECTOR
Permanent Disinfectant Against Bacteria & Viruses
All Aquaclean fabrics come treated with Safe Front Hygiene Protector, Aquaclean's very own antibacterial and antimicrobial treatment.  
Recent testing on a Feline coronavirus (the closest relative to Covid19) showed that 91% of the virus was killed on the Aquaclean fabric treated with Safe Front.
Certified to ISO 20743:2013 8.1 & ISO 18184:2019
See more details here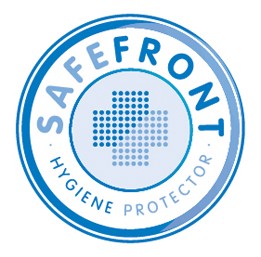 PFC FREE
Aquaclean fabrics utilise the latest technological advances to achieve a product that's not only elegant and of the highest quality, but that is also practical, resistant and as safe as possible. Aquaclean does not use PFC's in any of their products to ensure a quality product without endangering people's health or the environment.
See more details here