LUXURY VELVETS FROM MISIA
In keeping with its pursuit of excellence, MISIA PARIS continues to scrutinize materials and textures, to continually offer new and original combinations. Natural, fine materials such as linen, new-wool, natural cotton, silk and bamboo, along with innovative mechanical processes add extra quality and something special to each of the fabrics presented in this 2020 launch.
This year the spotlight is on velvets. There are eight velvets in the collection: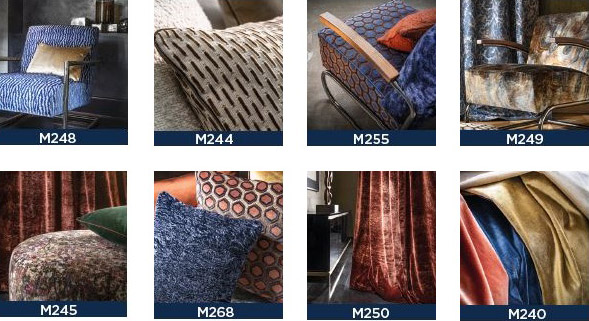 M248 – JOLIE JOSEPHINE, a looped-velvet jacquard with a daring, animal stripe
M244 – PARIS – VIENNE, an uncut-velvet with a small Art Deco pattern
M255 – L'IMPÉRIALE, a gorgeous cut-uncut velvet, with a polygon pattern
M249 – NUIT BALKANIQUE, a spray-dyed velvet which looks like polished marble
M245 – L'ORIENT, a velvet jacquard with 16 colours of yarn, imitating lush vegetation
M268 – LE TRAIN BLEU, a plain "astrakhan" velvet, which resembles the feel of the lambs' wool of the same name
M250 – JAMES, a plain viscose and cotton velvet with a mirror-like finish and a silky touch
M240 – VENISE, an exquisite and technical plain velvet of silk and cotton.
View the collection here