CAMENGO 2023 COLLECTION

LIFE IS CHEERFUL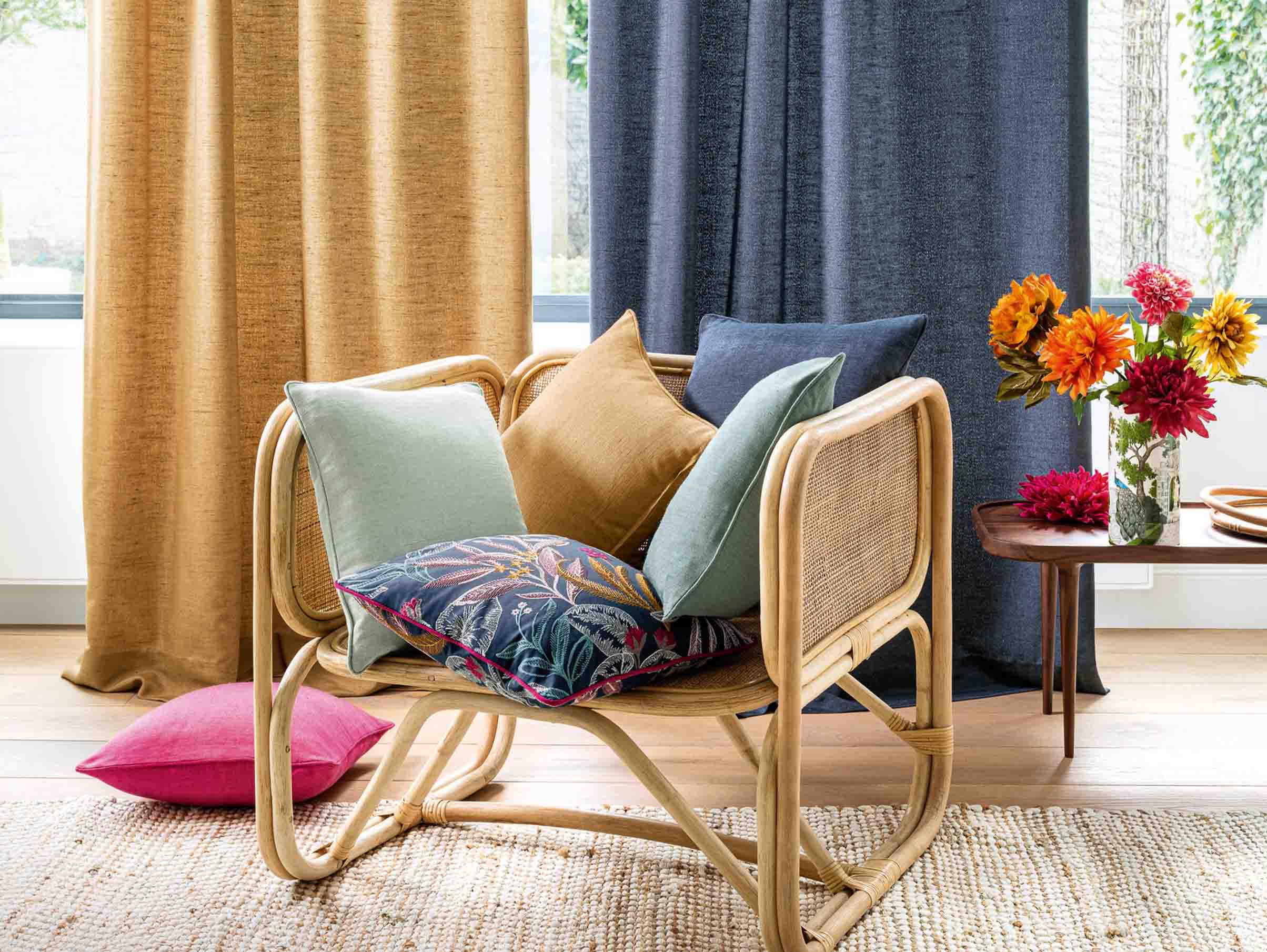 With fabulous inspirations from nature, the south or architecture, the new Camengo 2022 collection reinterprets the most important cultural and design inspirations to create wonderful , luminous fabrics rich in colour. They lift your interiors with a touch of emotion, which makes each ambiance unique.
This collection complements multiple styles and designs for timeless looks that make the home a beautiful place to recharge and relax.
"CITY" reinterprets the contours and vibrant atmosphere of this city, filled with history and culture with its graphic compositions, sophisticated palettes and multitude of original details giving this unique collection its personality.
Collections: Bilbao, Bilbao Velvet, Milford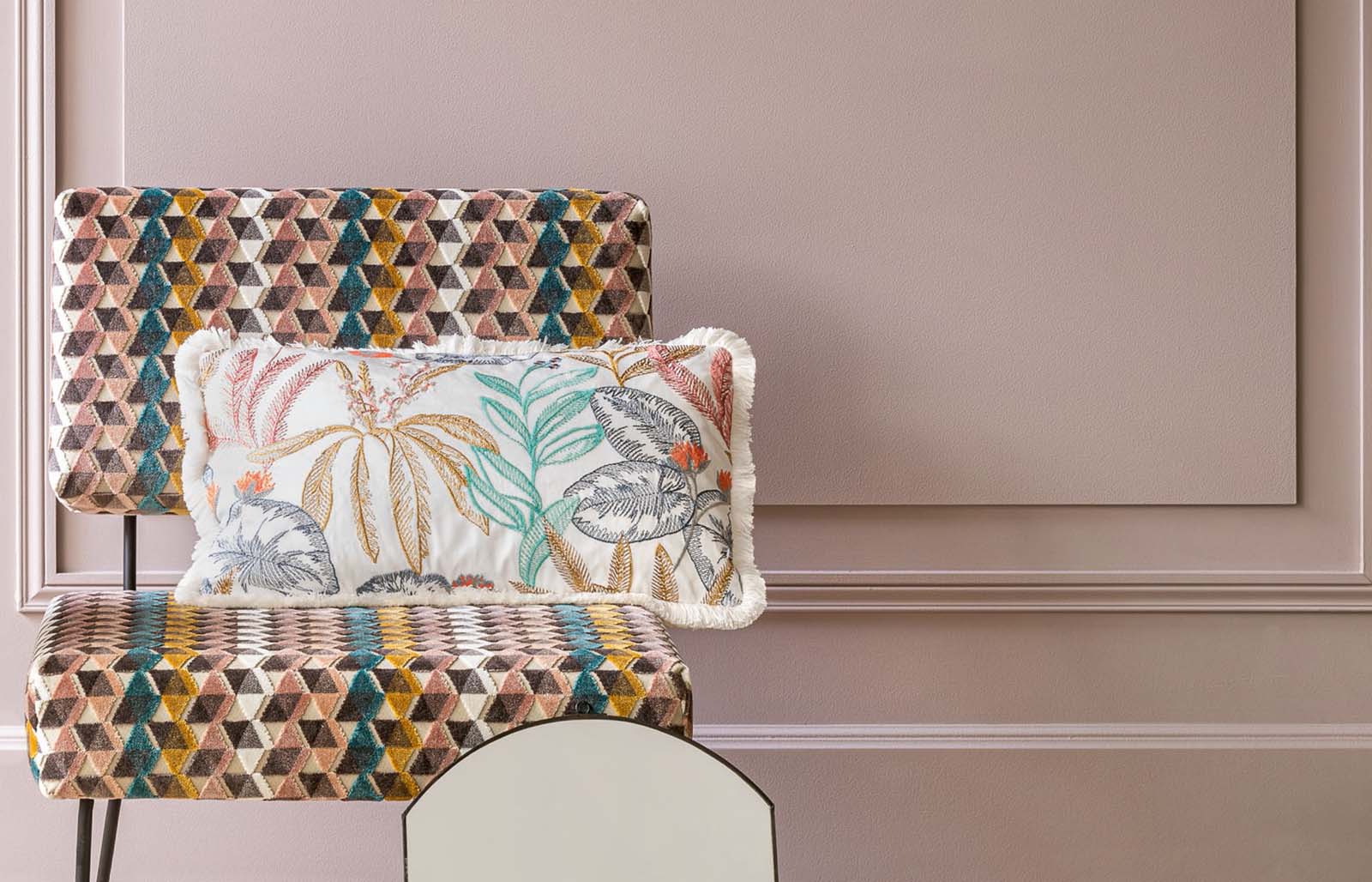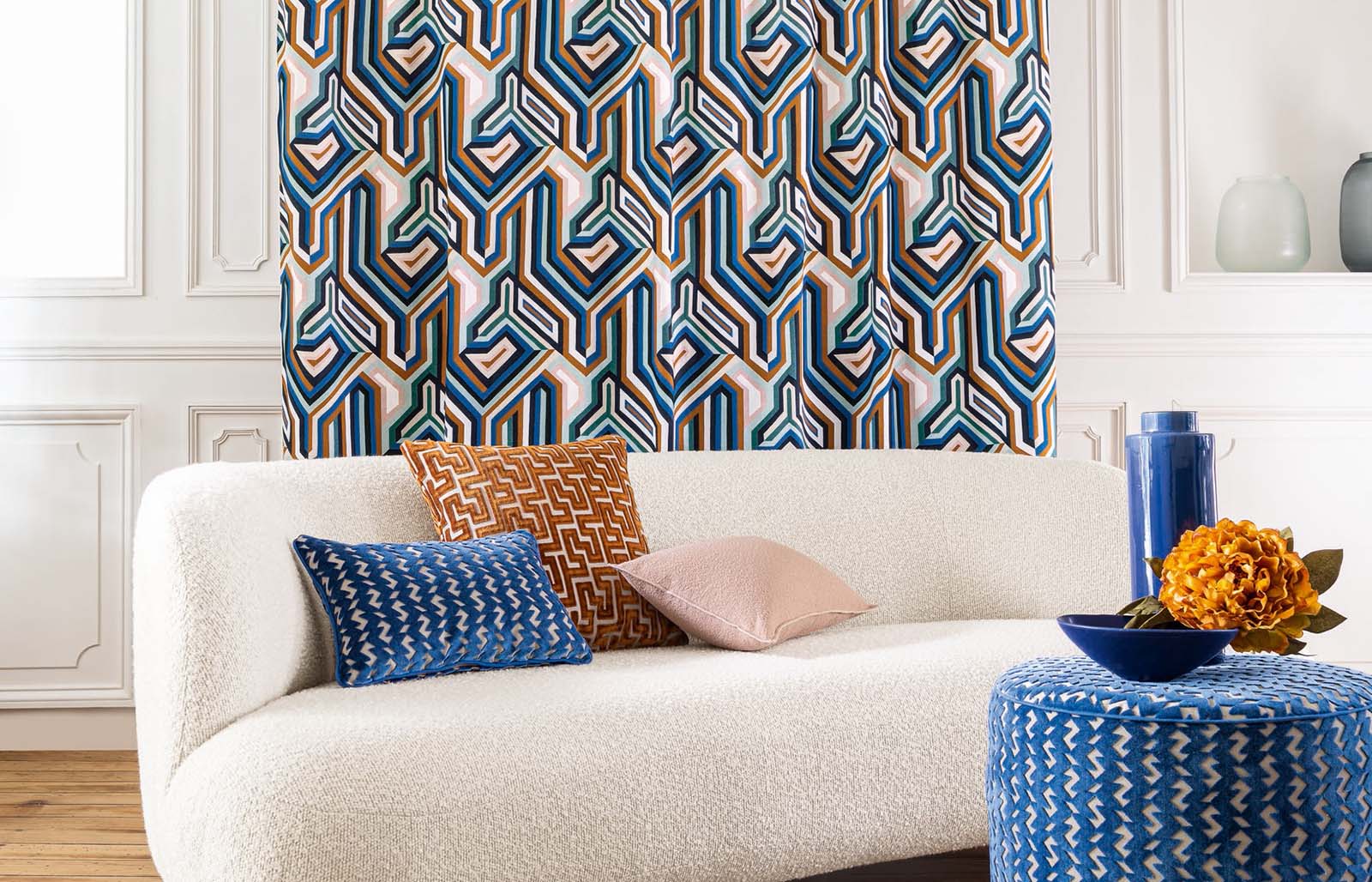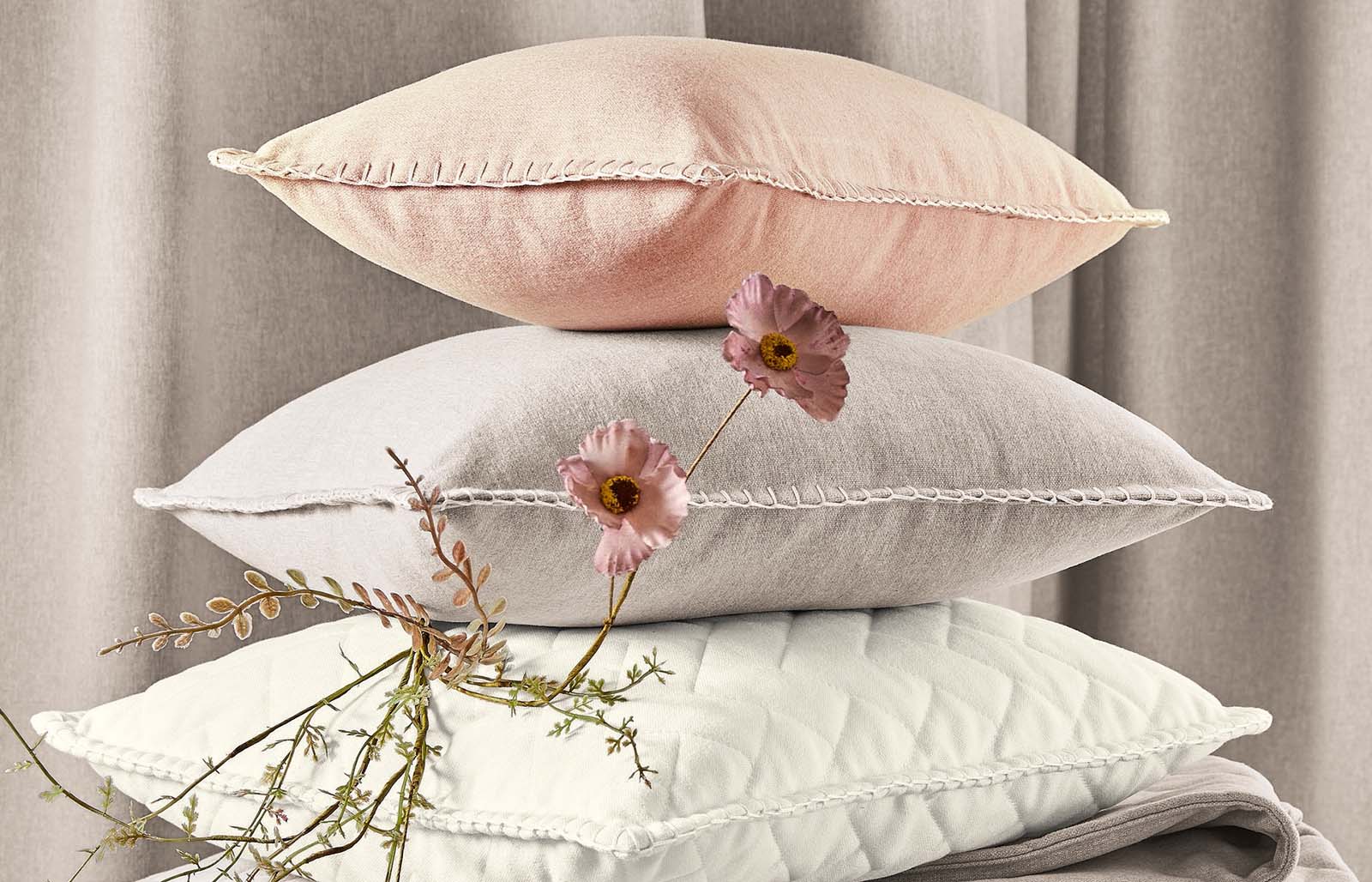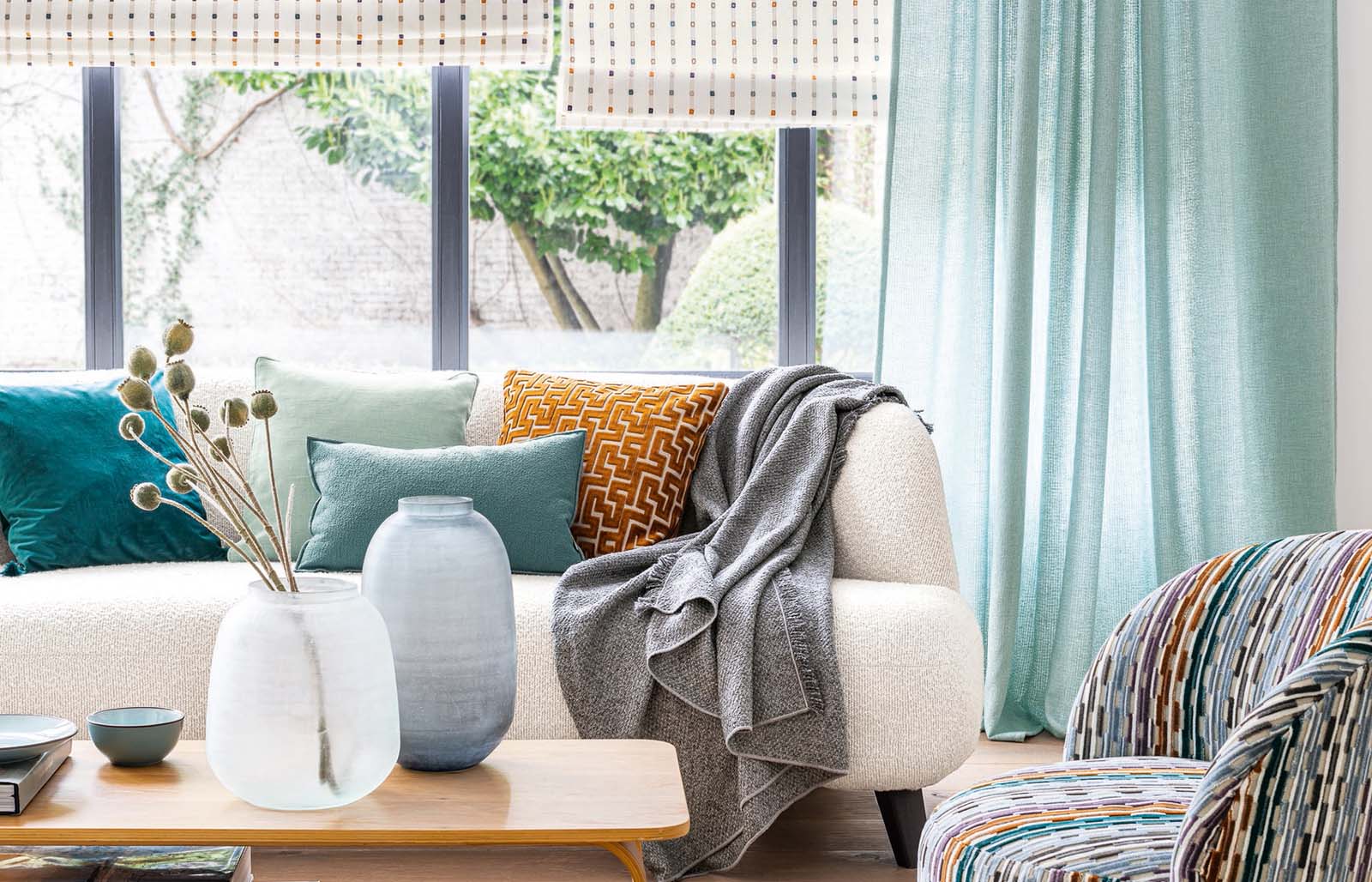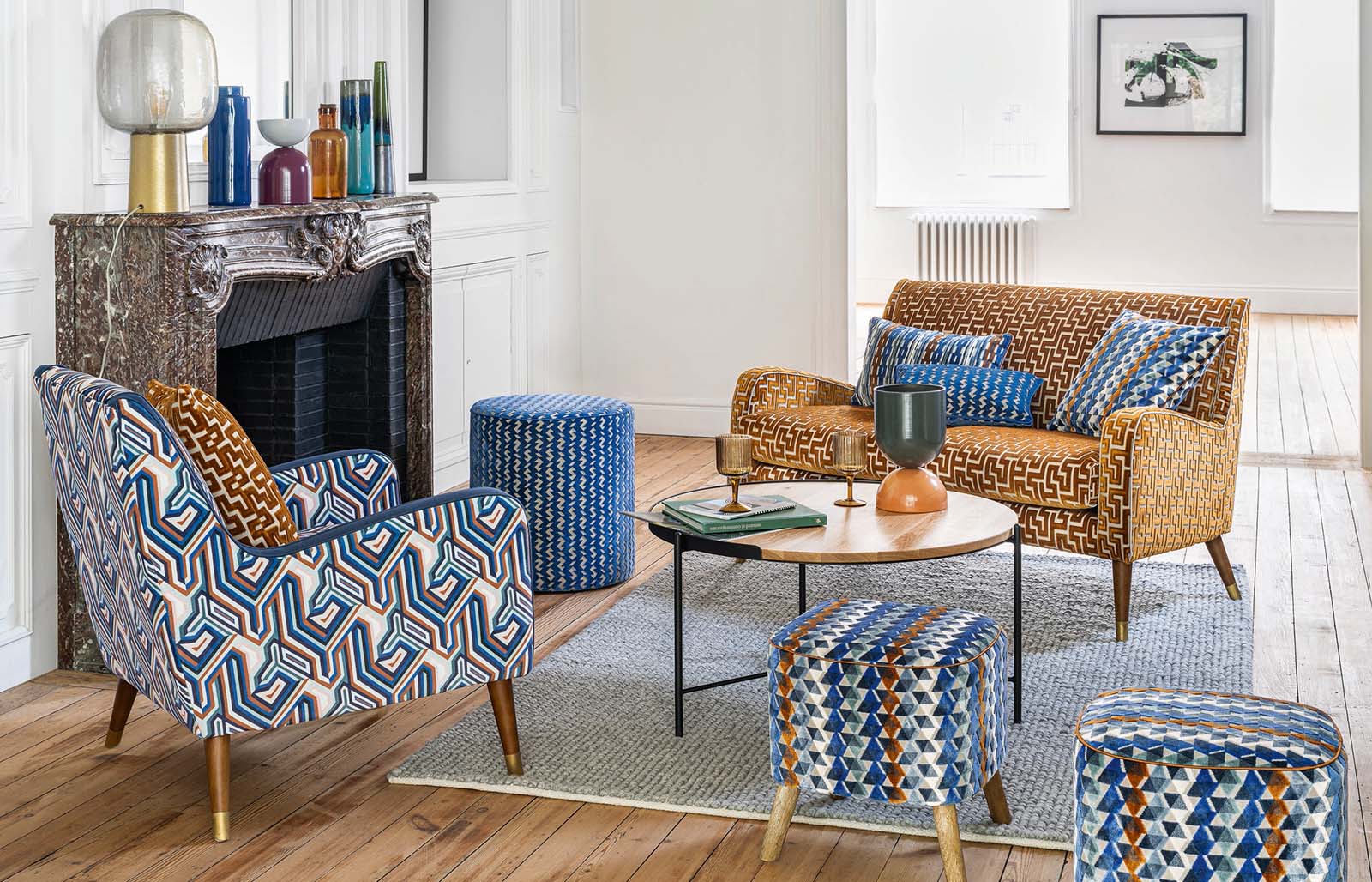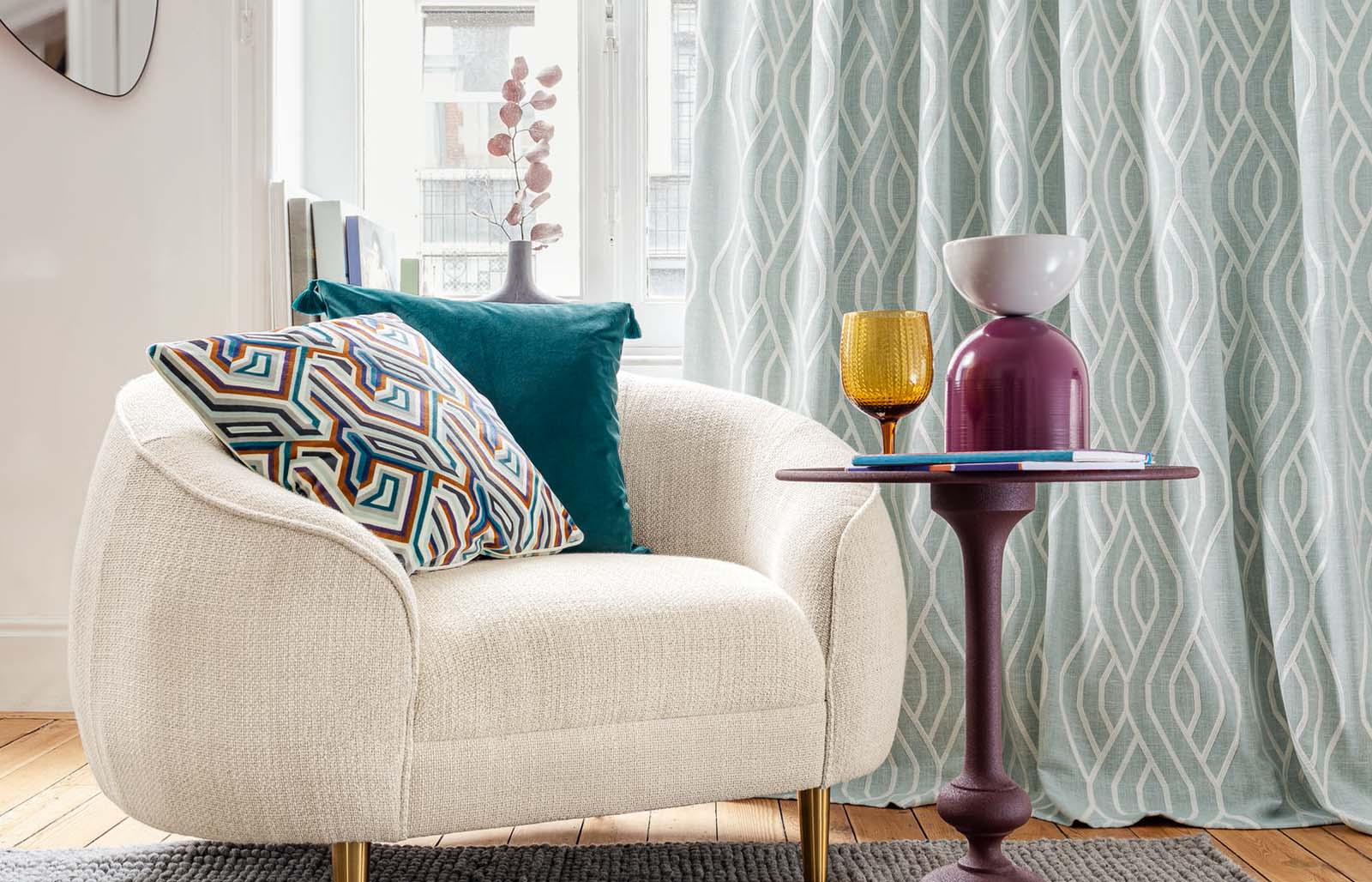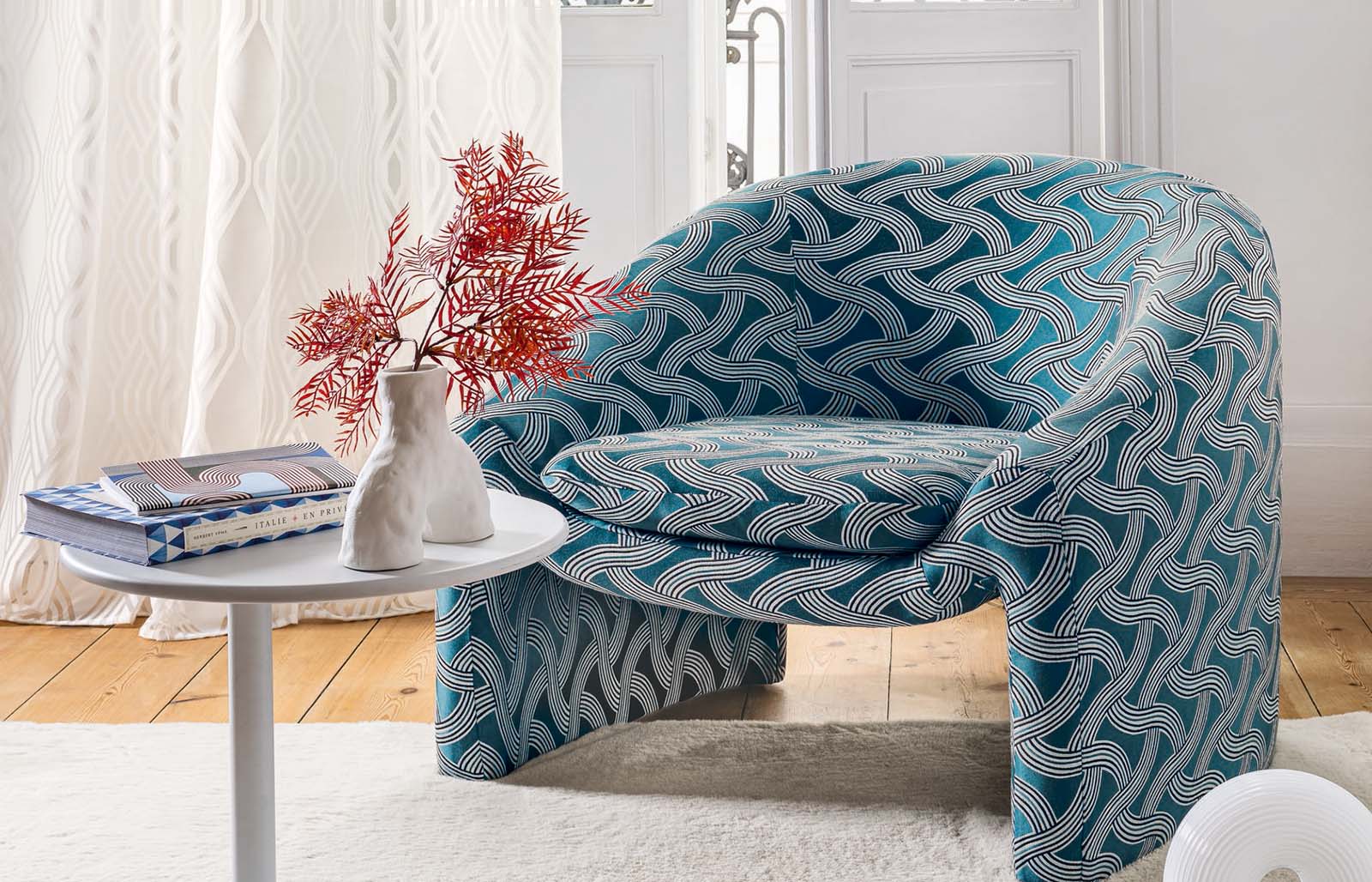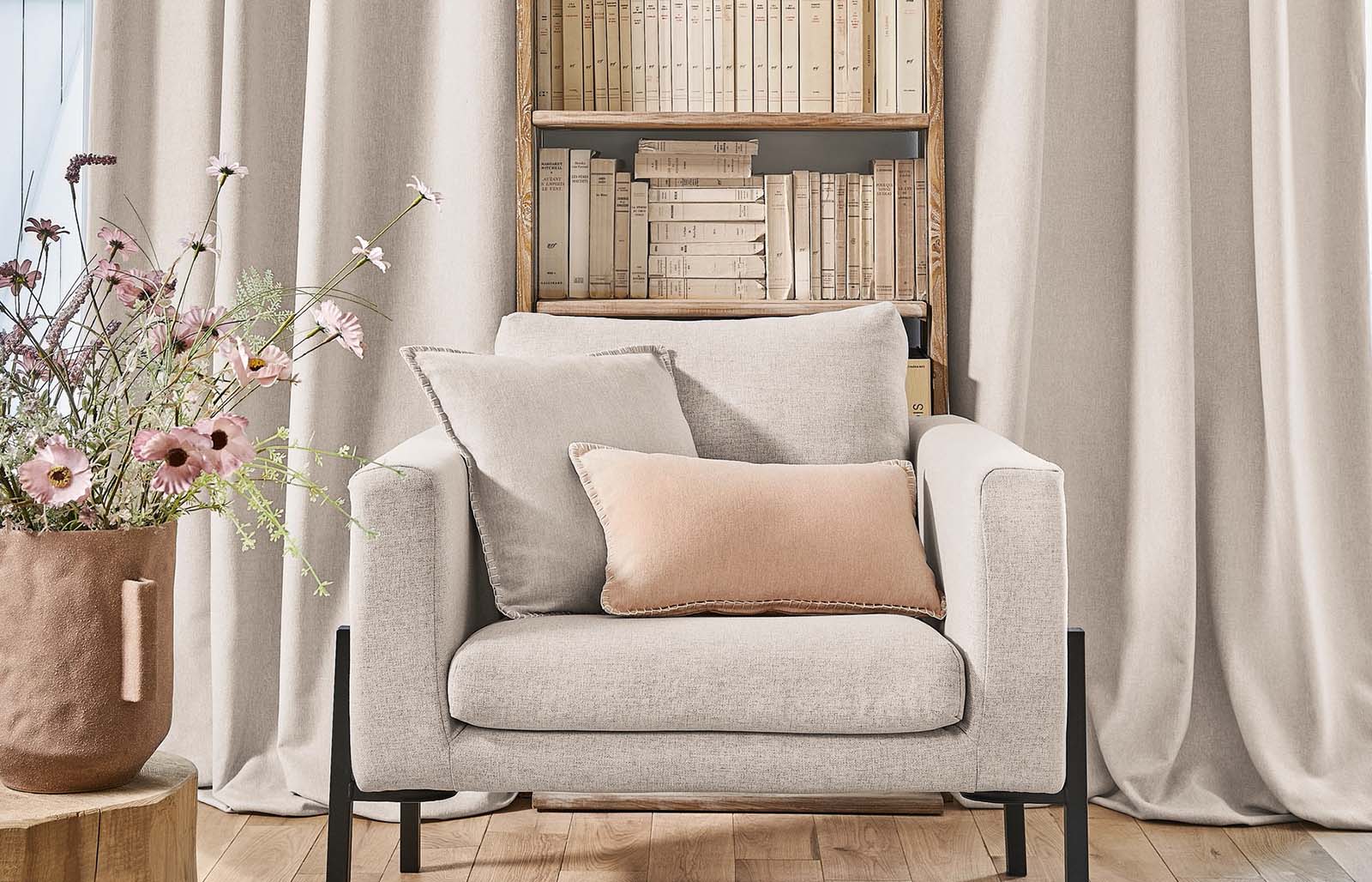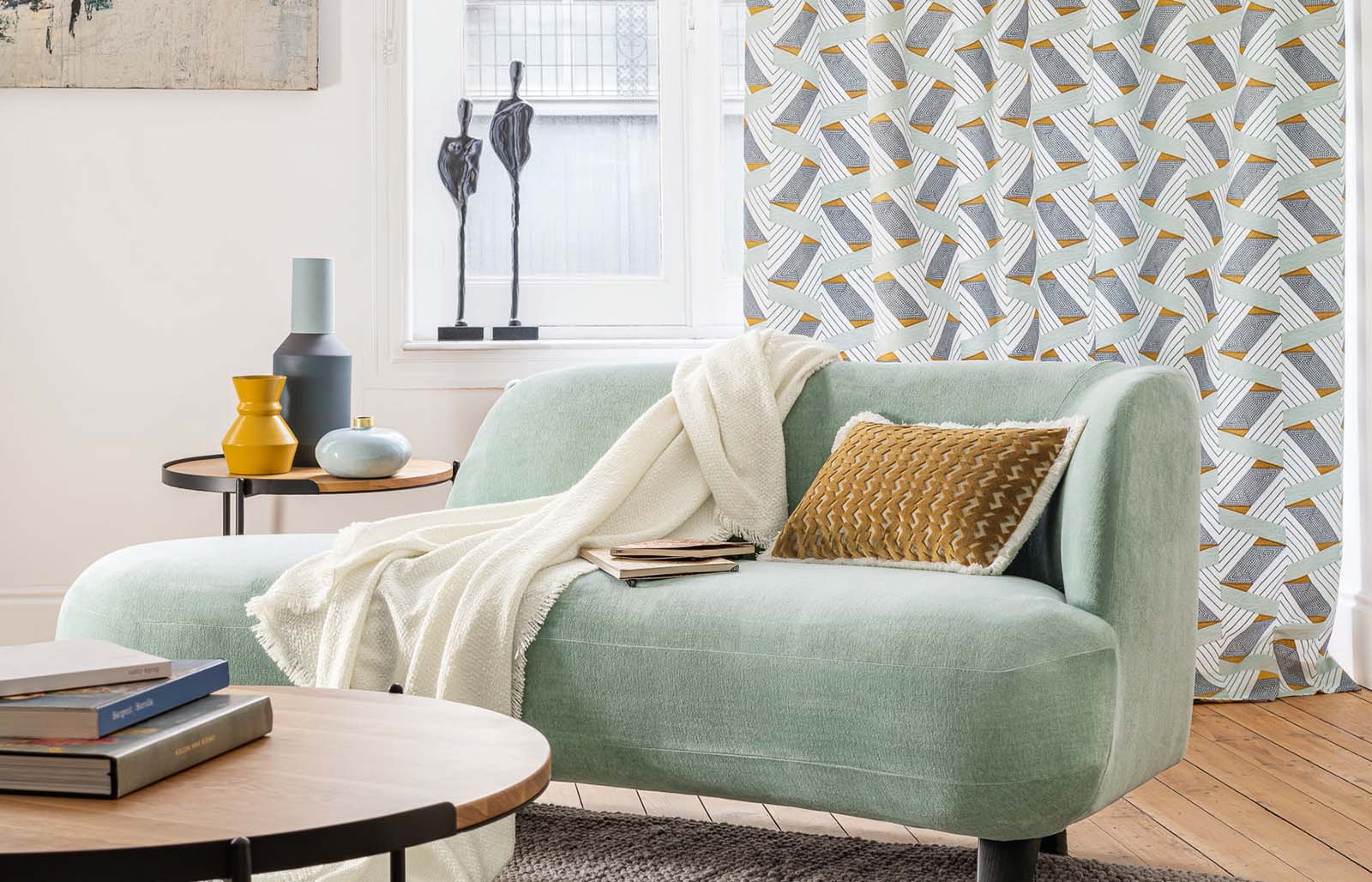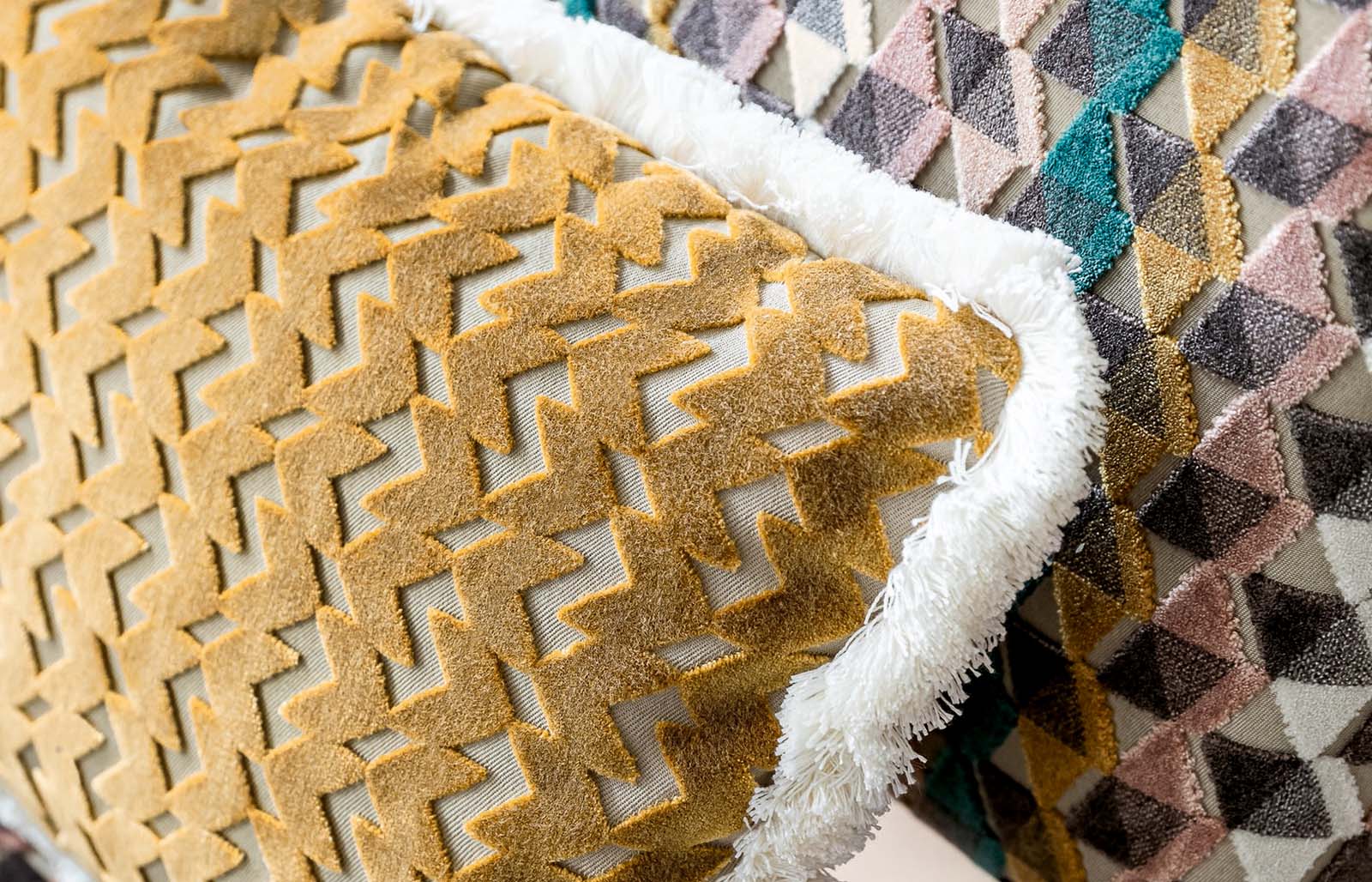 A desire to live in happy simplicity in a majestic décor : a pure setting with understated and powerful geometry, a balance of beauty, utility and nature. The home is a true refuge to find calm, well-being and daily happiness, in a living space with simple, beautiful lines and timeless colours.
Click samples for more colourways
A vibrant collection of velvet jacquards in keeping with the graphic rules of our "BILBAO" universe. The dense pile of the velvets gives the fabric a remarkable volume with infinite richness. The colours are deep and the lines are extremely precise to create gorgeous and exceptionally elegant armchairs and sofas.
Click samples for more colourways
"Milford" is a beautiful wool-effect plain, created in 100% recycled polyester; created from recycled mineral-water bottles and food packaging. The bottles and packaging are shredded, then melted before being transformed into fibres, yarn and finally recycled polyester fabric with a 300cm width. Its exceptional touch is obtained through mercerisation. Its texture and drape are as magnificent as those of wool. 
Harrison" is the quilted version of the "MILFORD" plain, available in 3 colours and a 280cm width. The volume and amplitude of the quilting, combined with the sensation of wool create a feeling of total comfort.
"Milford" is available in 29 colours. Click samples for more colourways
An extraordinary garden, multi-coloured, flourishing in our homes, brightening each room with its sparkling, dreamlike, jubilant energy. Nature reveals its free and generous side, showing its creativity with all its energy. The décor comes to life like an exuberant botanical palace, flourishing with dazzling blooms, fruity and delicious colours. The feeling of happy and sunny holidays covers the walls, the furniture and all the objects in the home.
Collections: Pacifique, Macao, Mahin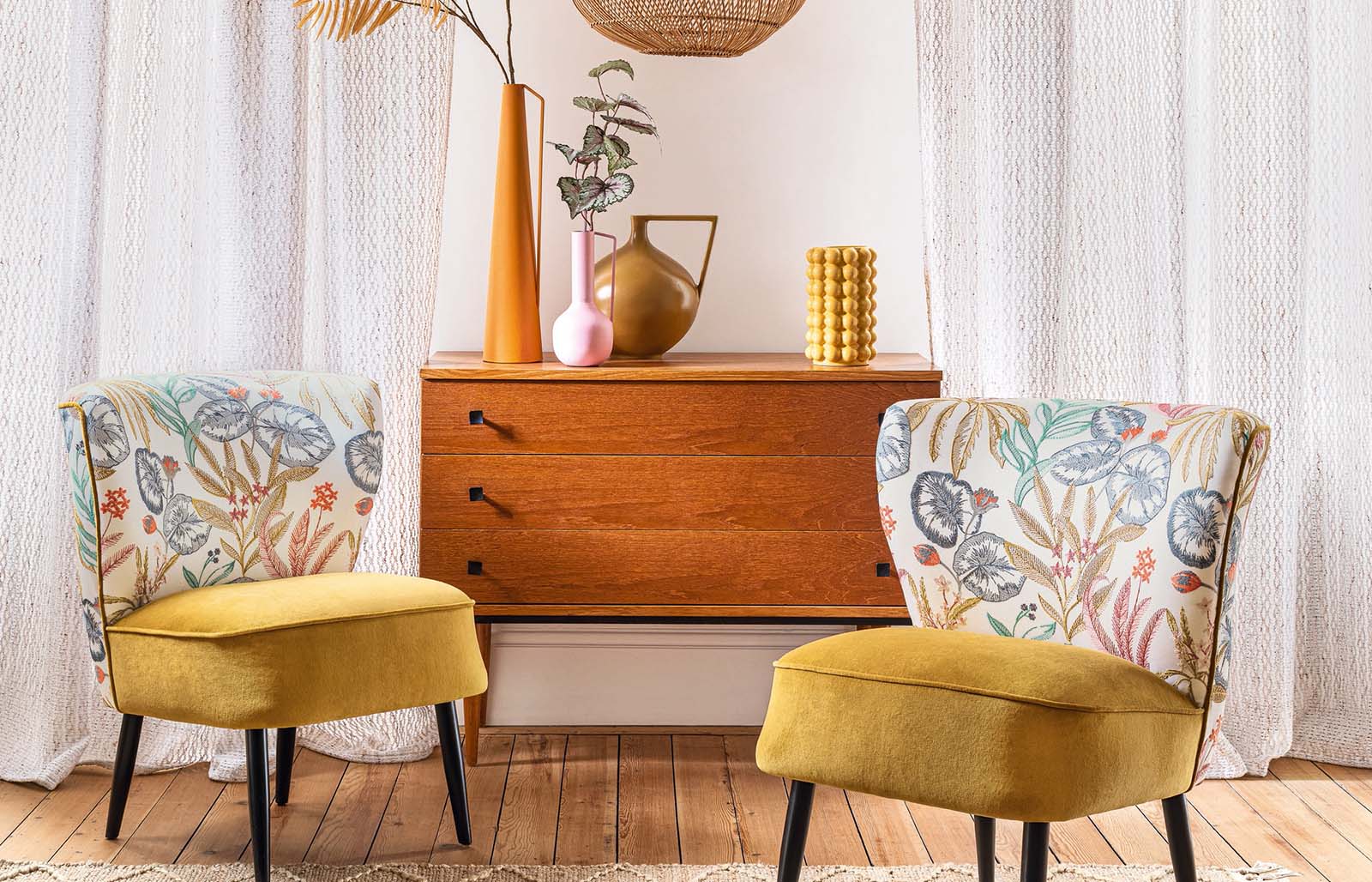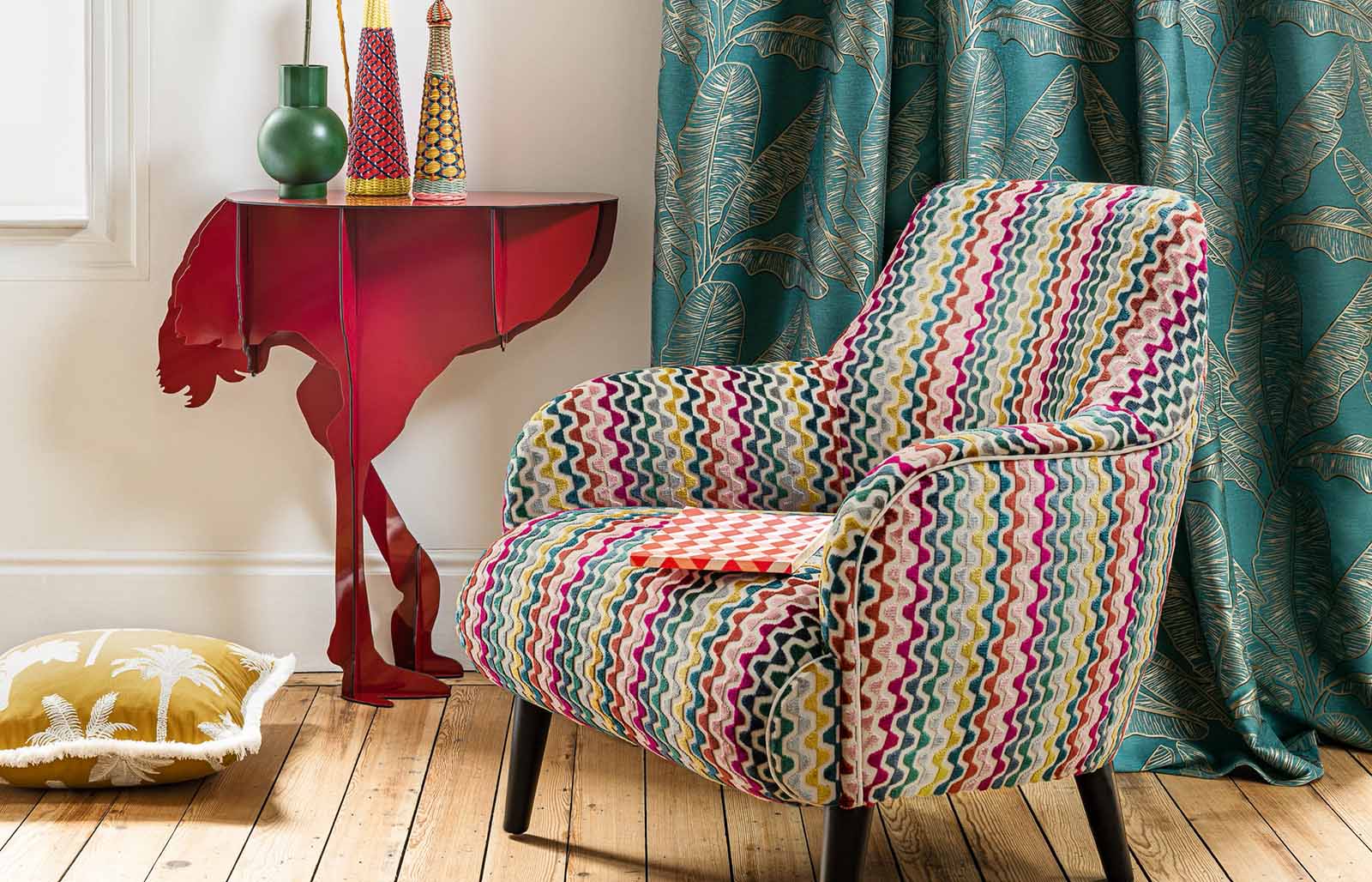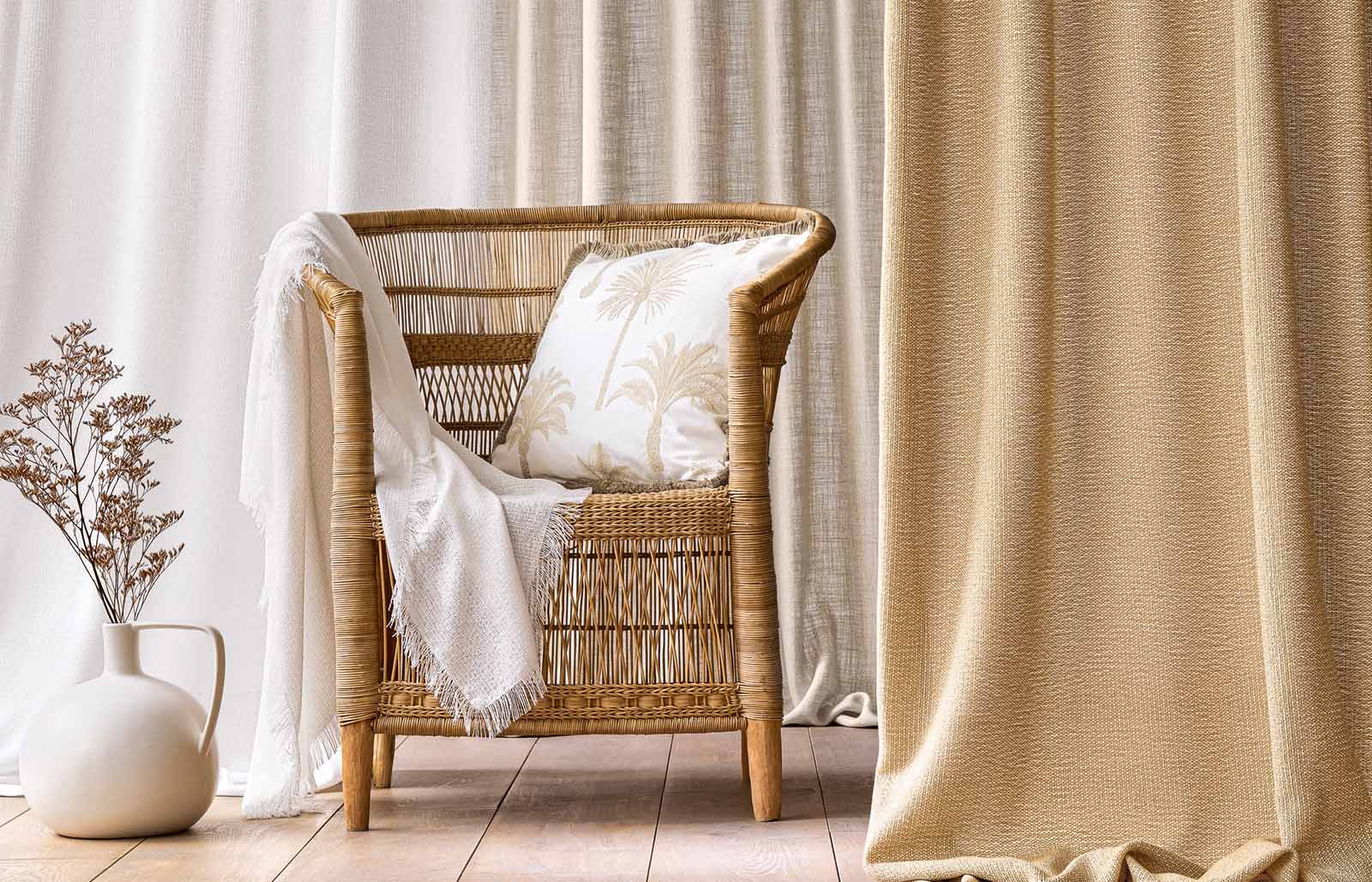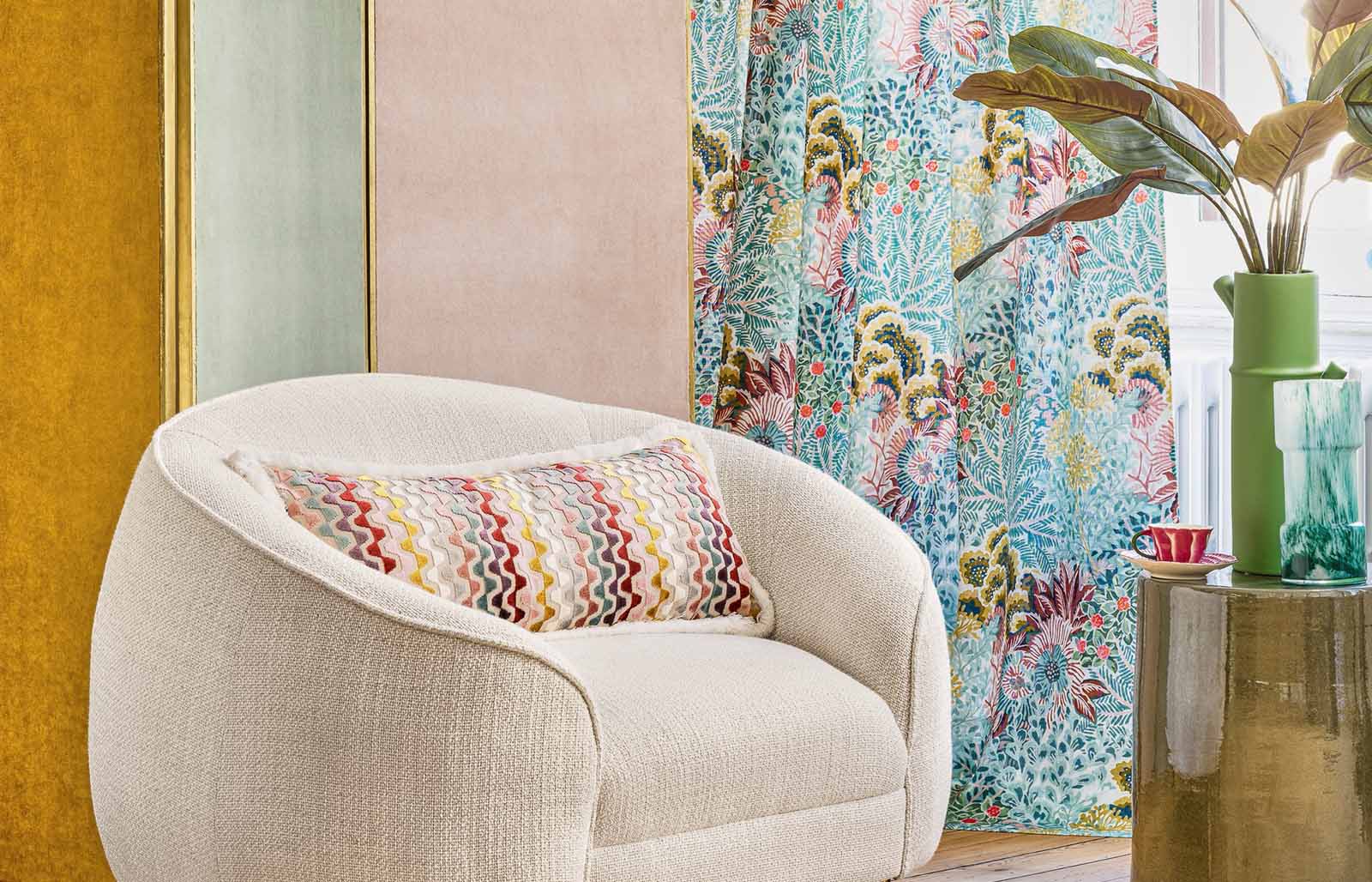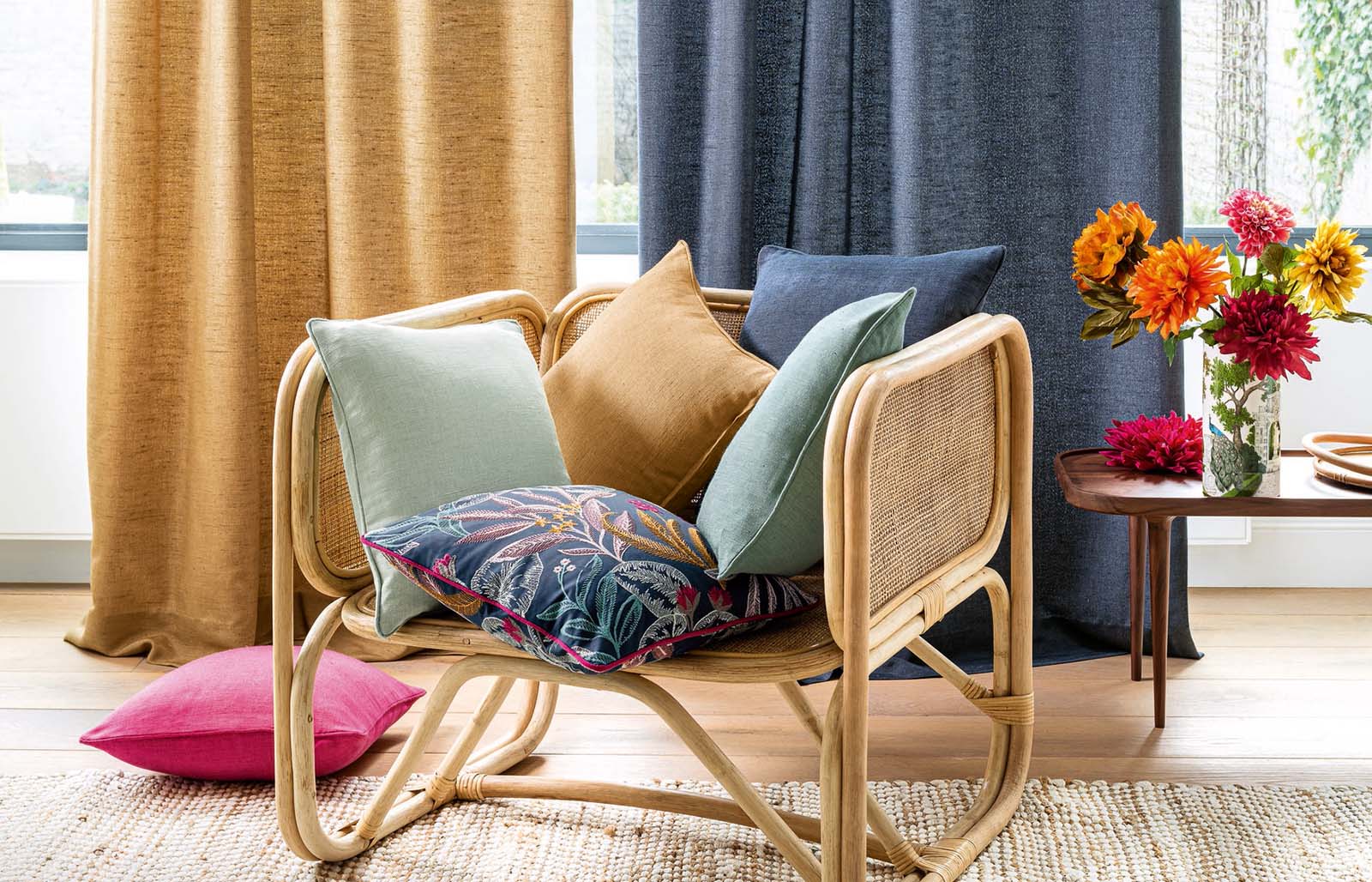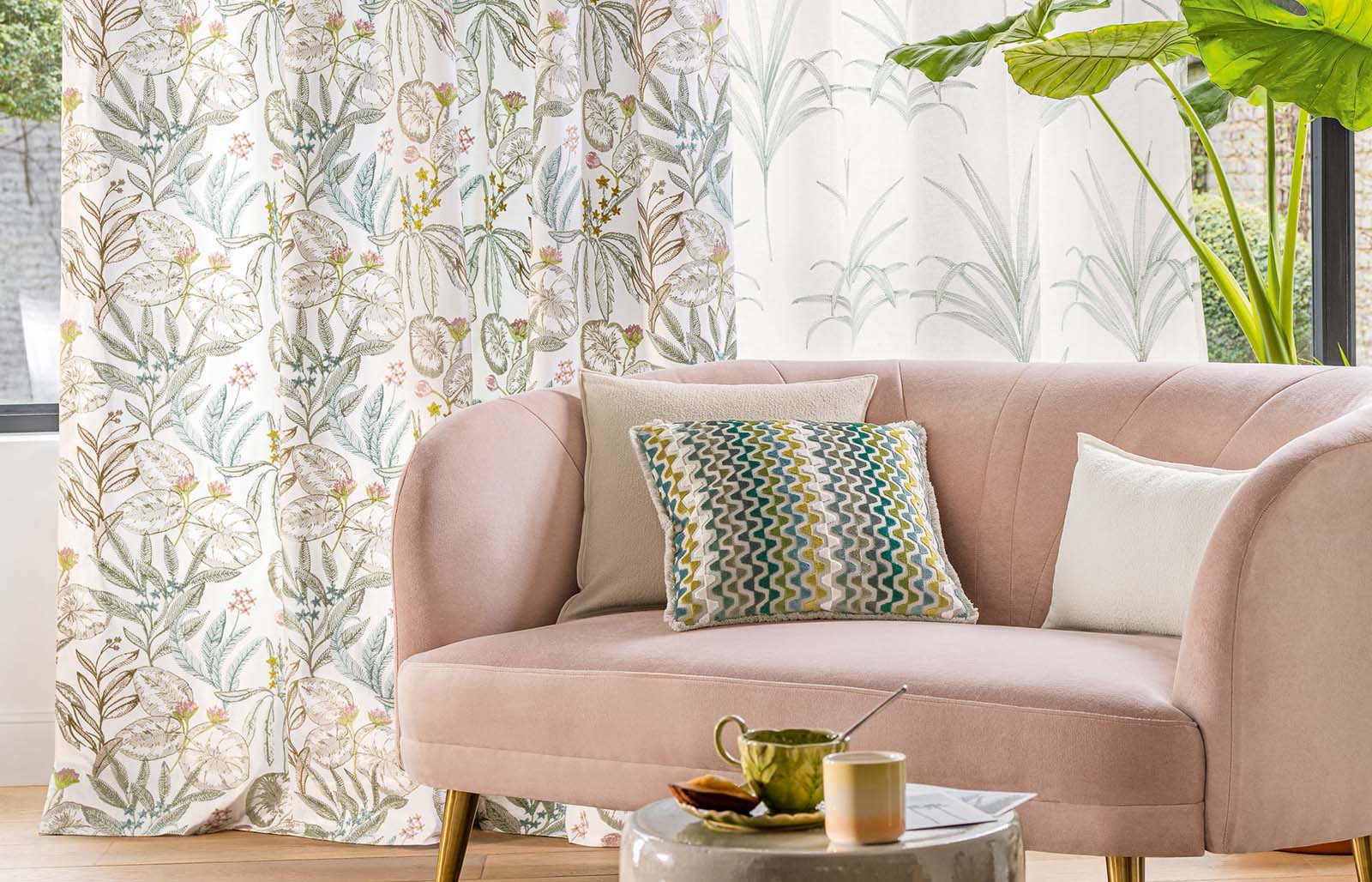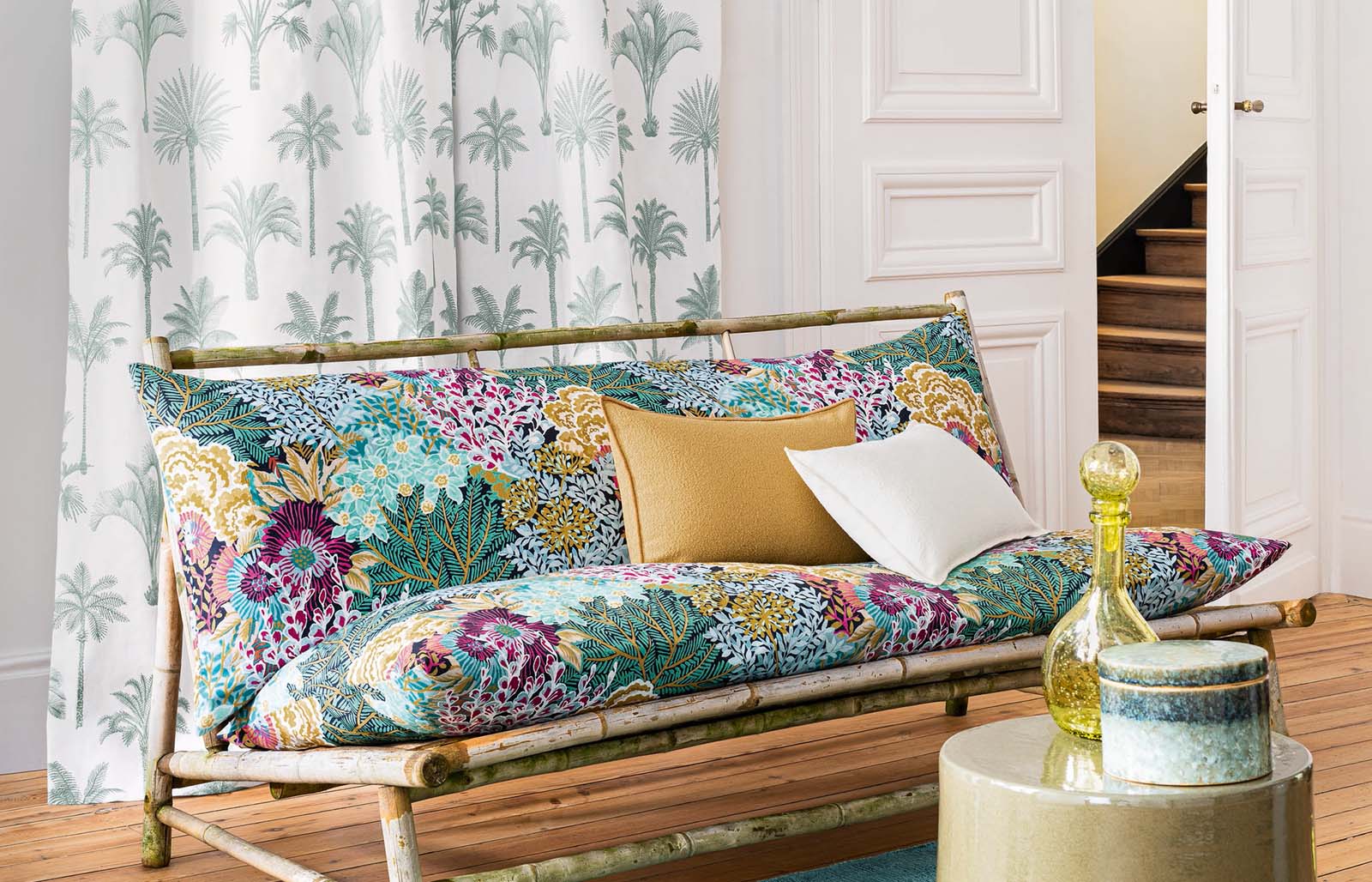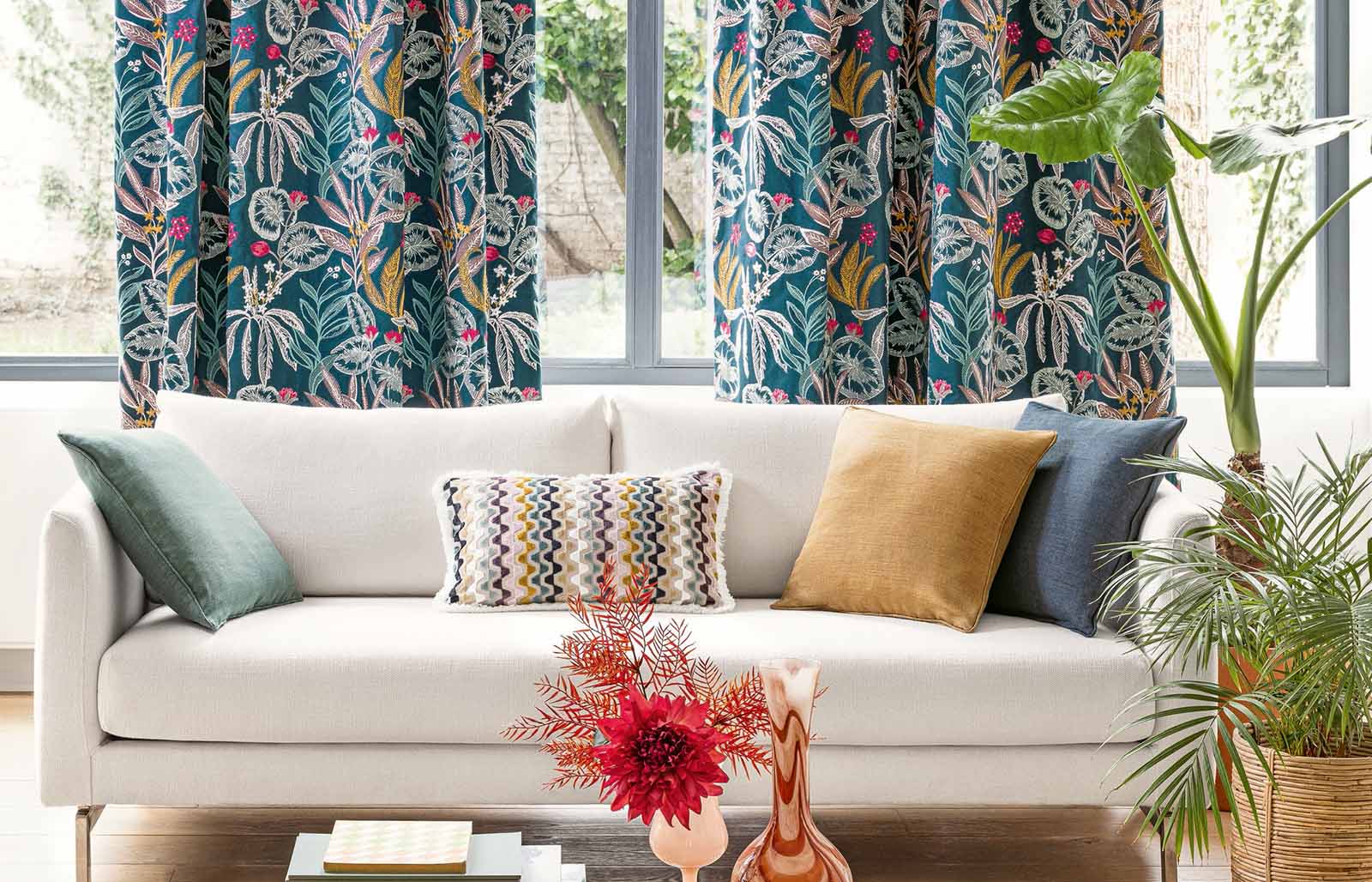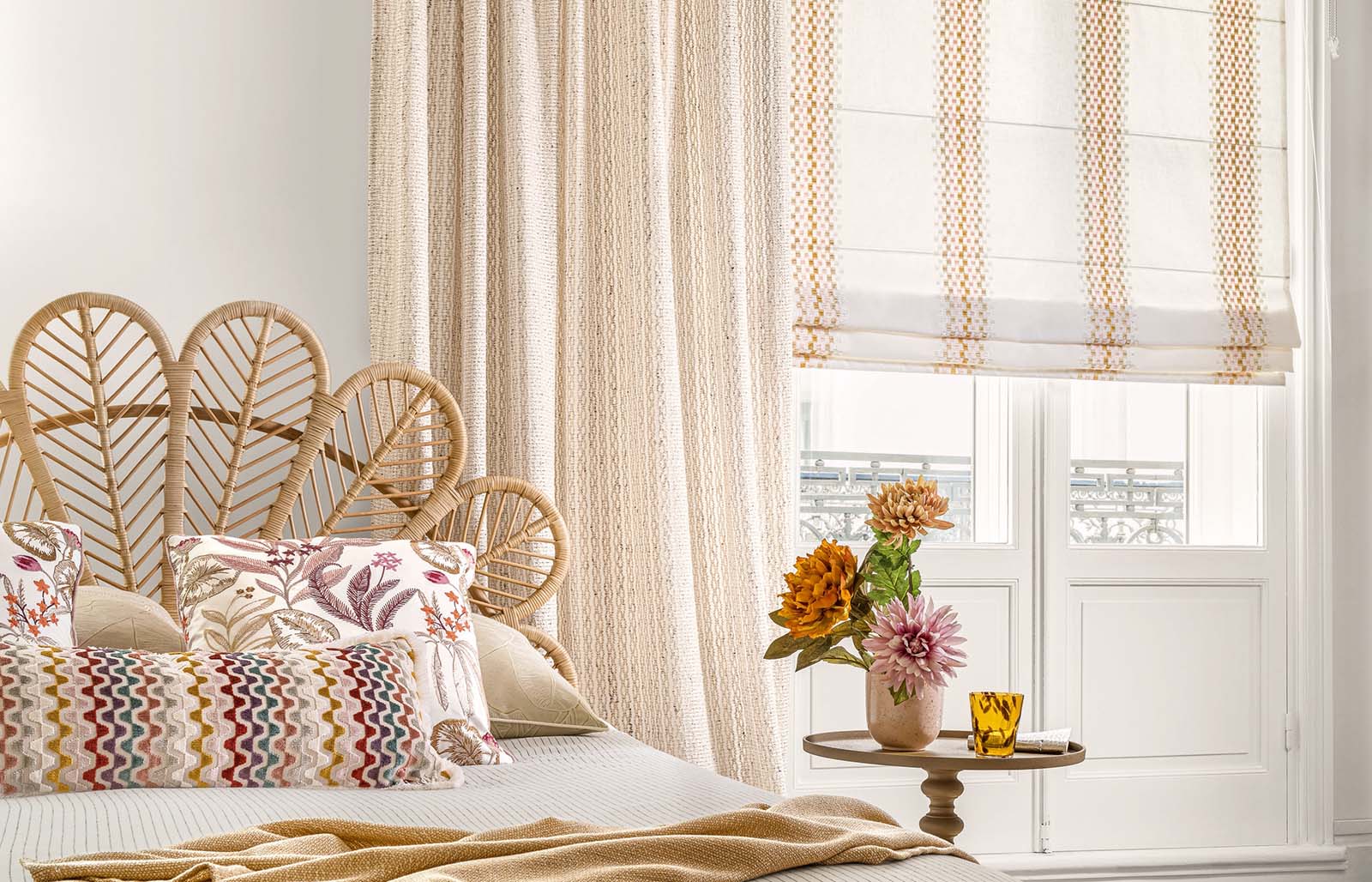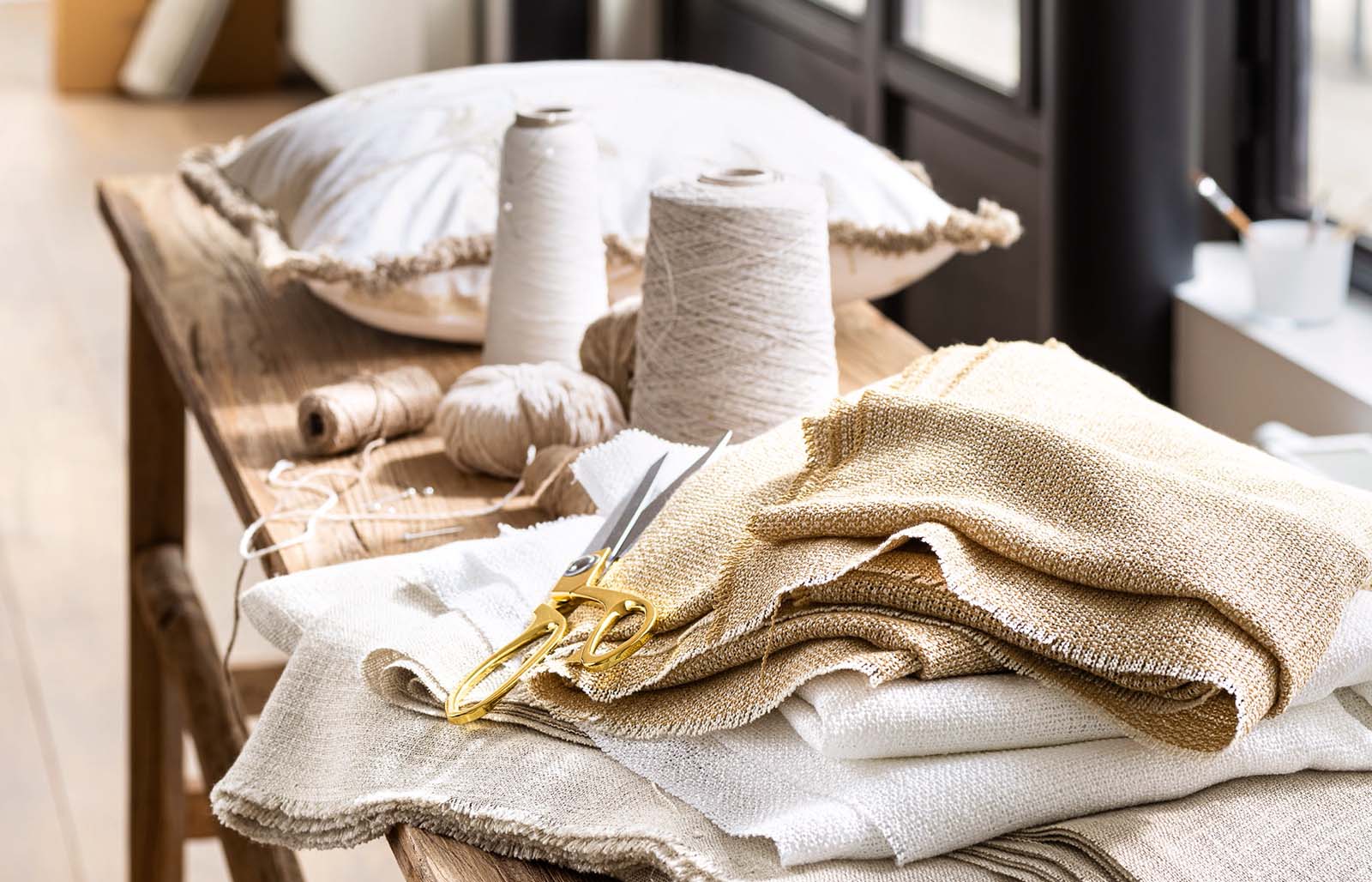 Pacifique" features delicately embroidered botanic motifs on a beautiful cotton satin. With finesse and precision comparable with a work of art, the foliage is lush, the flowers appear as subtle touches of colour. This creation makes summer endless, in a home filled with optimism.
Click samples for more colourways
"Mahina" is a linen-look plain voile in 300cm width, ideal for undercurtains. Thanks to its slightly slubbed and irregular yarn, the texture is close to that of linen. Its 66% polyester and 34% viscose composition make it easily washable. The viscose adds softness and an incomparably fluid drape.
"Temae" is a plain voile designed in 300cm width. A relatively heavy fancy yarn gives the fabric its 3D volume and a warm cottony touch. Its 100% polyester composition makes it washable.
 "Temae" is available in 11 unique shades, perfected by Camengo's colourist.
"Mahina" is available in 24 colours – click below for more
The "Macao" plain is a beautiful replica of wild Shantung silk. With a polyester yarn which imitates dupion silk, the fabric is slightly shiny and extremely supple. Designed in 300cm width, its 100% polyester composition makes it washable.
"Macao" is available in 30 beautiful shades