TEXTILE TALK: TRIMMINGS
WITH SHARON CASH AT FABRICUT INC.
Meet Sharon Cash, the creative force behind the trimmings for all of the Fabricut Inc brands, including Trend, Fabricut, S Harris. Stroheim and Vervain. Over the past twenty-five years, Sharon's trimmings have been featured in Veranda, House Beautiful, and Luxe. 
Sharon earned a Bachelor degree from Philadelphia College of Textiles and a Masters in Textile Science from Clemson University.  In addition to her work with Fabricut, Sharon has designed and developed trimming collections for trimming mills around the globe. Sharon derives much of her inspiration from fashion, travel, art and nature. She has four children and resides in Tulsa, Oklahoma with her husband of 29 years. 
We caught up with Sharon to discover more about the design process and her tips on using trims…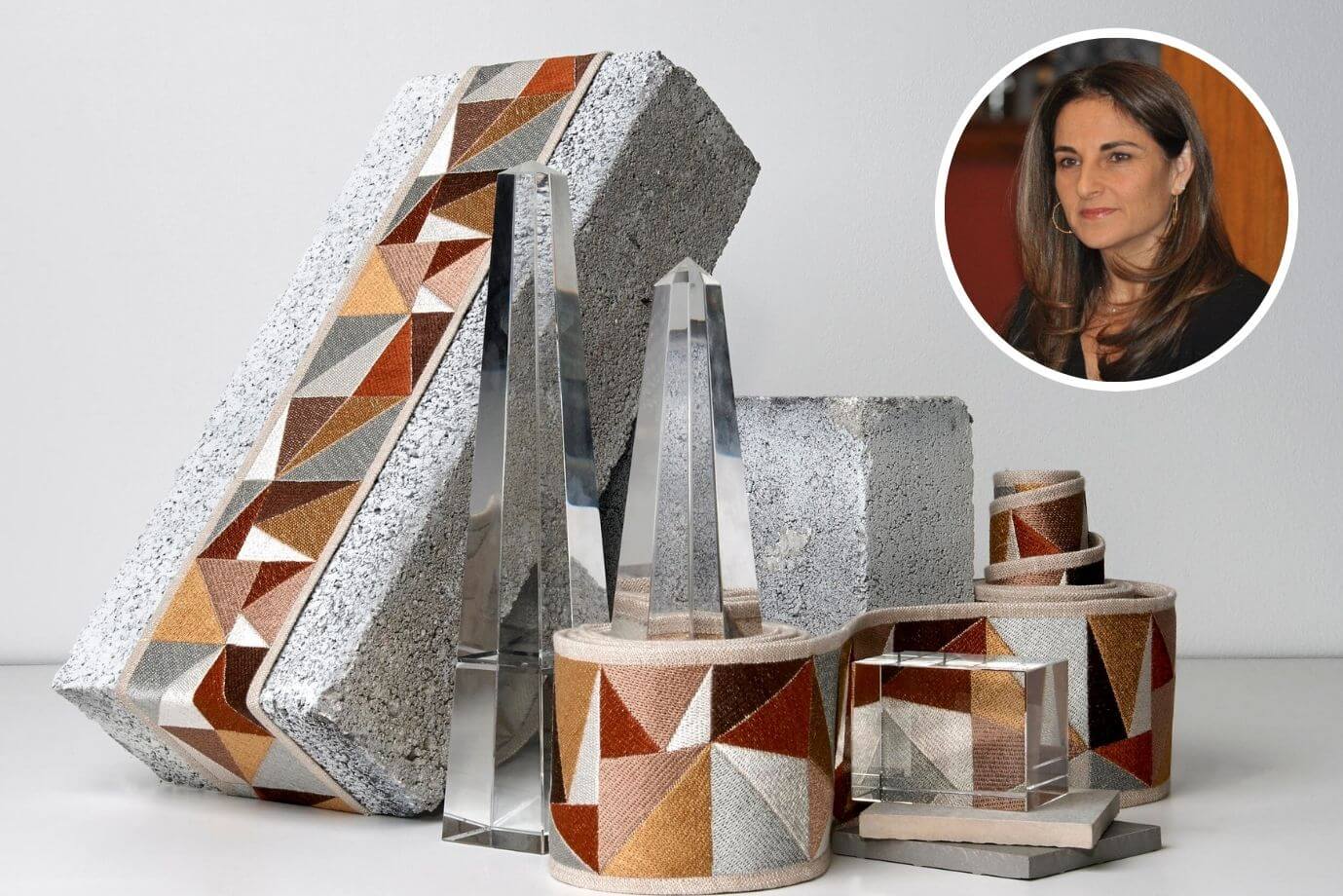 Textile Co: Why do you think trimmings are so important in interiors and what are some tips on how to use and where?
Sharon: Trimmings are important in interior design because they have the ability to move color to different locations throughout a space. 
For example, you can feature one color from a multicolored chair fabric by matching it to a tape color and applying it along the leading edge of a drapery. Another way to really create a custom look is to extend the tape across the bottom edge of the drapery, which draws the eye to a specific color within a rug in the room. 
Multi-colored and wider tapes often work best when kept vertically along the leading edge of the draperies. Narrower, solid trims, on the other hand, add a unique touch when turned along the bottom edge of the drapery. A great tip to remember when placing a tape along the leading edge or bottom edge of a drapery is to use the width of the tape as your guide: inset the tape one full trim width or 1/2 trim width from the fabrics edge.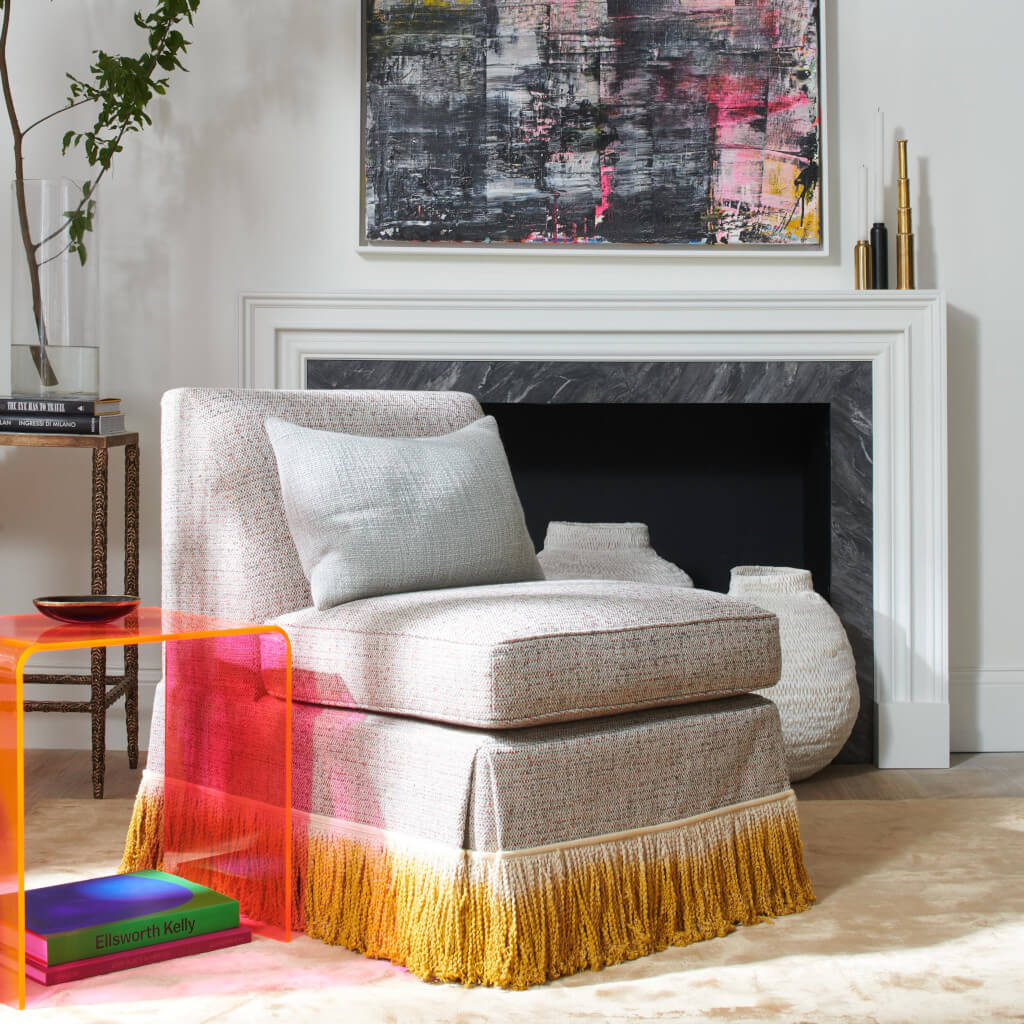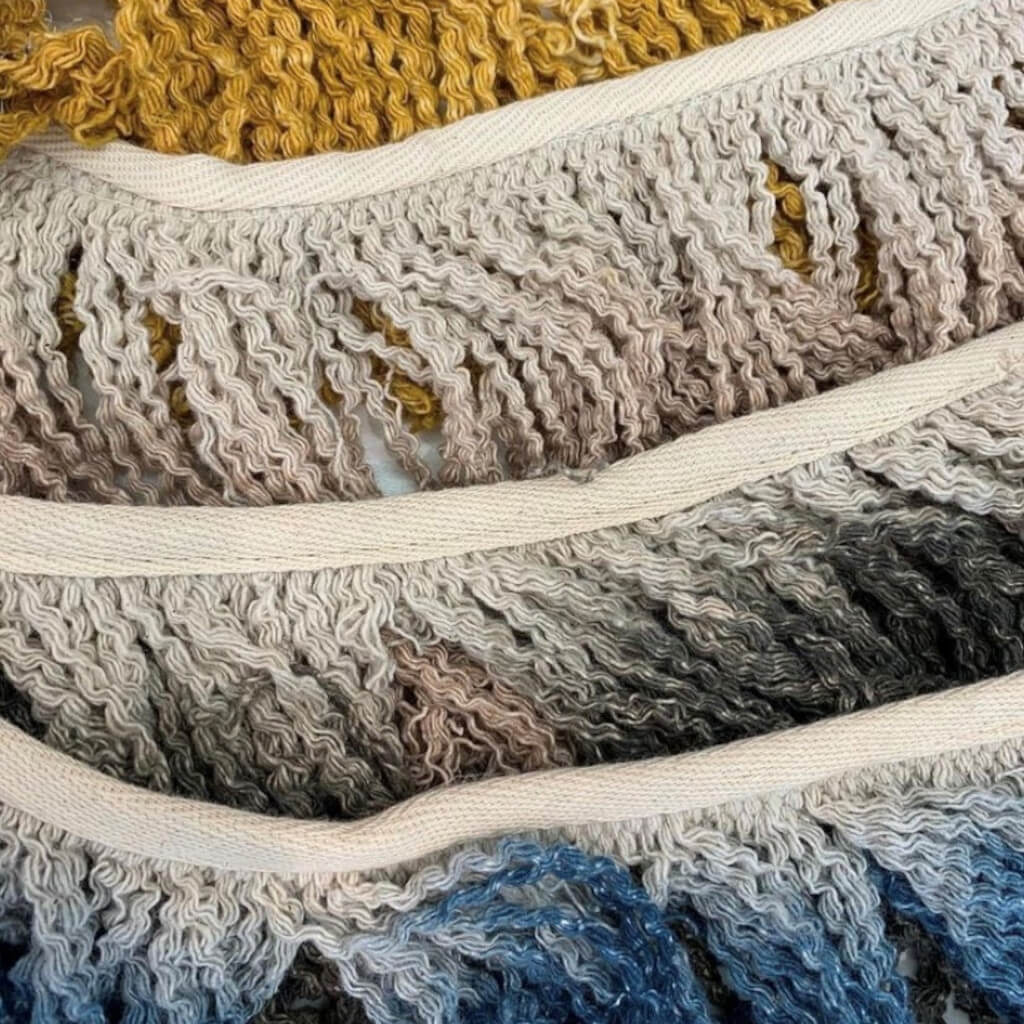 Franja is handcrafted and dip-dyed in India
Textile Co: Where do you get your inspiration from when designing trims? What comes first – the design or how it will be applied?
Sharon: My inspiration comes from four main sources: fashion, travel, art and nature. I am also fascinated by smart and visually inspiring advertising. I like to identify what makes an ad successful.  I always have a huge stack of magazines and art books that I am working my way through. 
Pinterest is very intuitive to me – the other designers I work with are always surprised when I'm able to show them things they can do on Pinterest because they are used to me being pretty inept when it comes to anything remotely 'techie'. But the design most definitely comes first. I see design ideas in everything. I never know exactly what will become a trimming, but in the past I have used everything from magazine tears or photographs of architecture, to street grates, butterfly wings, and even cantaloupe rinds.
Textile Co: We see trends in fabrics and wallpapers, do you believe there is a trend with trims? If so what do you forecast for 2021?
Sharon: Trimmings take inspiration from all the same places as fabrics and wallcoverings. The difference is that trimmings are uniquely dependent on fabrics. Trimmings rarely stand alone in home design; they always work in conjunction with fabrics. 
Before Covid took hold I was feeling pretty confident in my predictions for what was coming in home design: more color, bolder colors, funkier combinations, less minimalism, more maximalism, and performance fabrics. With regard to color: the return of some shades of red and brown and every shade of green and less grey. I still think maximalism is trending. 
With less ability to travel, we can bring the allure of faraway places and cultures into our home using fabrics, wall-coverings and trimmings that have stories attached to them. Texture feels really important. High-end fabrics for the home, like fabric used in couture fashion, will be even more prized for their softness and drape. Trimmings can add layers to the stories, interest to the texture, variety to the softness and craft.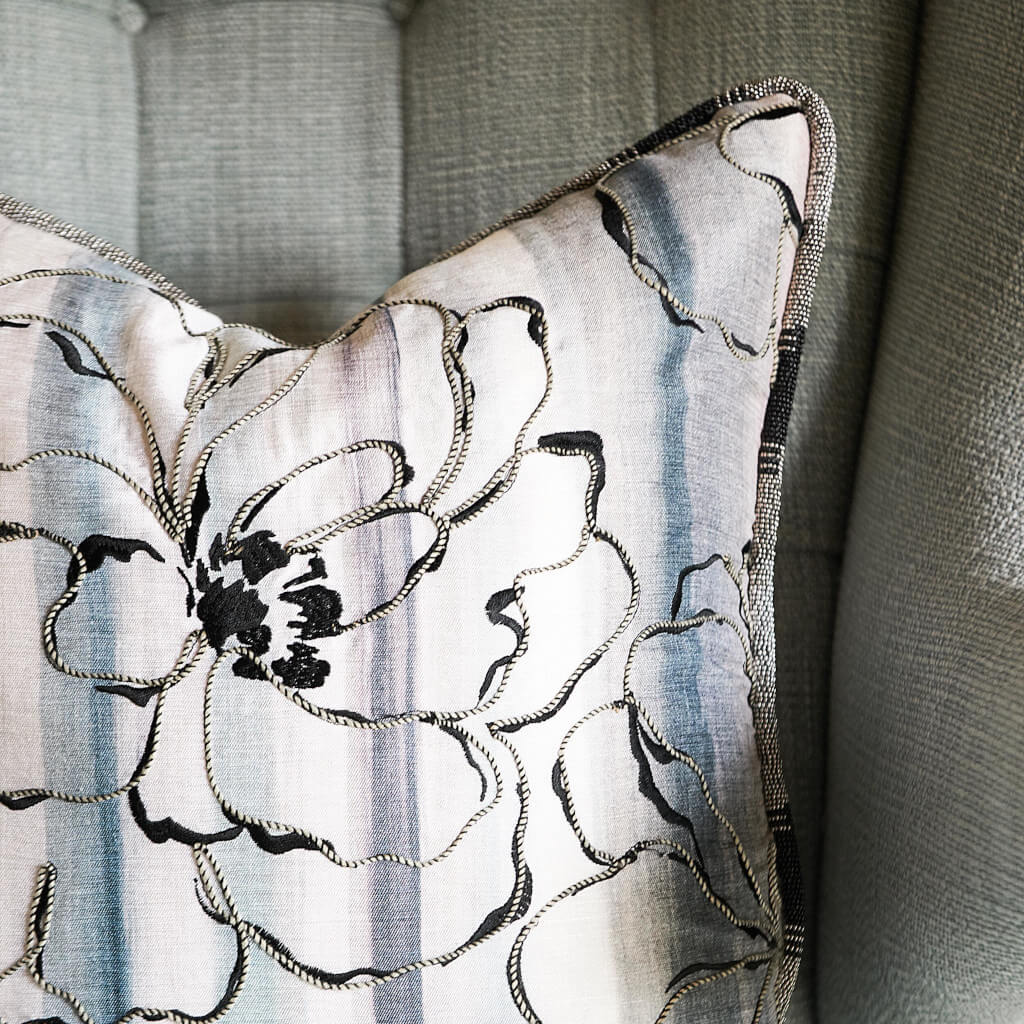 S Harris- Revival collection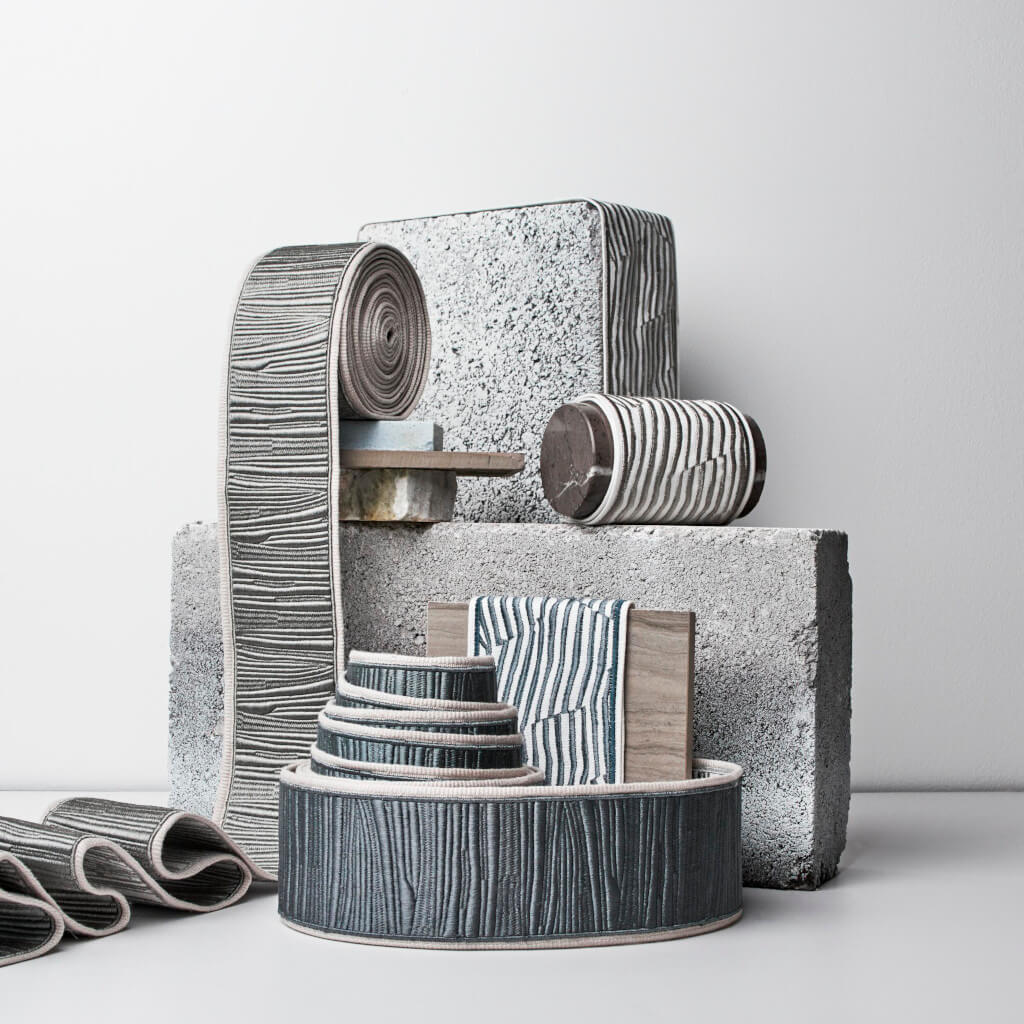 Textile Co: How would you inspire a trim novice to take the plunge and use a trim?
Sharon: I would remind them that trim is what makes a fabric custom, it is like the jewelry for a piece. Trim is what makes fashion couture, it's the Dolce & Gabbana fringe coat, or Chanel decorated cuff, it's the same for home textiles. Even in the most minimalist space, something as simple as a cord around a pillow or a tape down the leading edge of a linen panel is like a frame on a work of art. 
I would explain that if you think trims don't work with your design vibe, you are missing out on a chance to be wildly innovative and set your design apart from the pack. You only like minimalism? Well here is the chance to separate your look from every contemporary home catalogue- use a tiny 1/8" diameter cord to frame that solid contemporary sofa. If you're into wallpaper- frame it like a work of art using a textured gimp. If you love textiles and layer on the pillows and fabrics, then by all means add some gorgeous tapes, bullions and tassel fringes to make a one-of-a-kind statement.  
Textile Co: What is your favorite unexpected way to use a trim?
Sharon: I like to frame the wallcoverings in a room with a pop of color pulled out from the colors in that wall paper. I love choosing a color that is not always immediately noticed, this causes the eye to linger and appreciate the details of the overall design of the wall covering…
To view more from the S Harris trim collection and the other Fabricut Inc brands, please visit their website here and filter for Trims!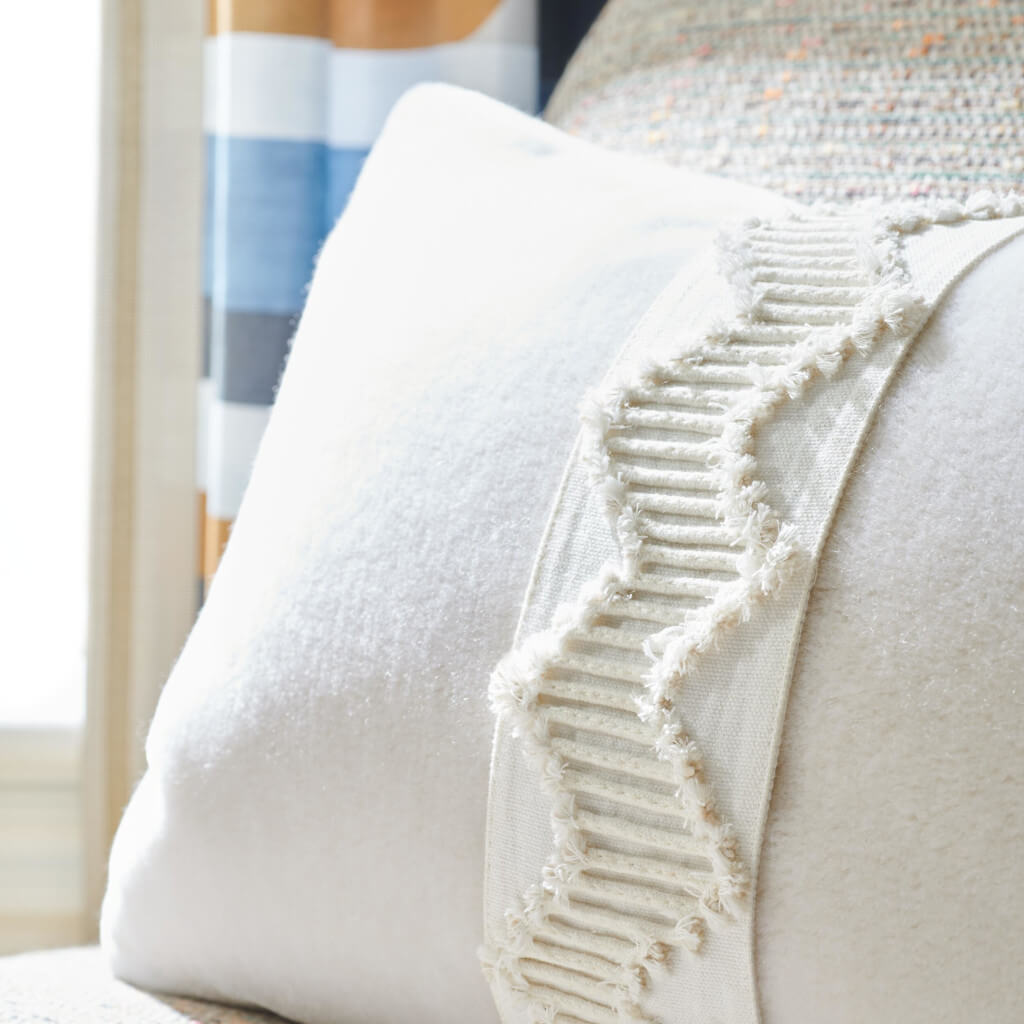 S Harris- Moving Wicks trim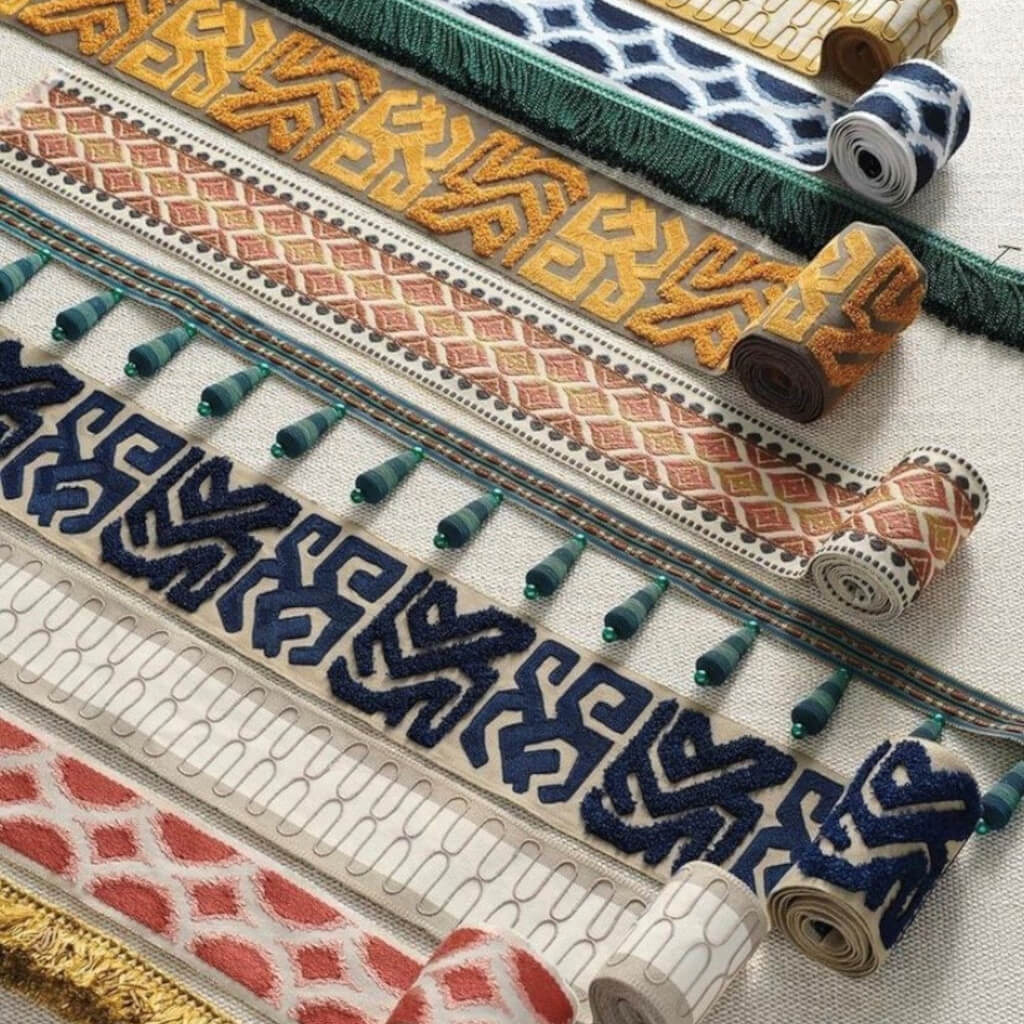 Fabricut- Collective Threads trims